Some people actually done something nice to others

United States
April 22, 2013 9:33pm CST
That is something real, and I saw it that really touch my heart. I was working part - time on the weekend. On last Saturday, a lady actually pre - order something on the phone for to - go. When she came in pick up the food, she kept on searching her pockets and purse, I guess that she forgot her money at home or something. Another guy who also waiting for his to - go order, was voluntary to pay for her items. That was almost $40.00, which is a real nice thing to do. The lady was sincerely thanks for his generosity, and vow to pay it forward. That is something real, and I saw it myself. Maybe people treat other people with sincerity, and nice attitude, our world will be much better.
10 responses


• Philippines
23 Apr 13
well some people have a good heart,i will share some of my thoughts in life,,,theres a book one time caught my eyes i barrow it to our neighbor,their is one page i really like..let me share with you guys as i remember but i will try my best"the title is YOU ARE MADE TO HELP" (I saw a small girl on the street,cold ang shivering in a thin dress,and very evidently hungry.I became angry with god ang said,why id you permit this?Why dont you do something about it? The night i heard a small voice inside my head say "I did do something about it,I made you...What have you done about it?"..it made me realize that im so blessed than the others,thats why every time i pass a street ang see people begging for a coins i didnt hesetate to give aecoz god gave me blessings its up to us how to use it if you be greedy or share...

• Malaysia
23 Apr 13
Yeah, how nice if there are more of these people around and this world will be a better place to live in

. However, there are only a handful of them now. And it is hard to meet them as well. I am so glad that it is so fortunate for the lady to meet her good samaritan



• India
23 Apr 13
Awww that is so sweet, some people are like that you know. They cant see someone in trouble, if they can do something to help them they will not think twice before helping that individual. You are right if we had one of such person in every household world would have indeed been a better place to live....

• Malaysia
23 Apr 13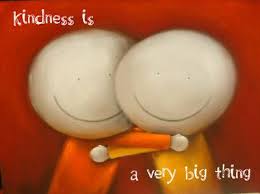 Yes random kindness is a treasure nowsdays , because random violence and bad deeds is rampant too. People are rushing and selfless , caught in the tough world to survive and not being cheated or lost out , they lost their humanity or simple things being kind , considerate and compassion are lost.Of course being positive , there are unsung kind people daily doing kindness to other people randomly without being known or reward too.

• United States
23 Apr 13
My daughter was in the supermarket and did not have enough for her purchase. a nice lady gave her the balance so she could get all her stuff. my daughter was at the train and a man asked for train fare. my daughter gave him her last dime of work transportation and I thought that was nice too. I gave her the funds back for being so kind.

• Pune, India
23 Apr 13
hi, You are right. Some people are always ready to help others without any expectation. the guy in your story is very helpful and kind. Now a days we can not find such people. Most of the people are selfish. If all the people behave like this man the world would be a better place.

• Indonesia
23 Apr 13
Helping without any prejudice - that's a noble thing to do. People nowadays are easily suspicious with something. If someone asks for help (or if someone looks like that she/he needs help), they'll start to think "is this for real or she/he just tries to scam me?" Another people will think twice before helping someone. They'll think about what will they gain by helping someone. That's why - helping without any prejudice nor without any strings attached, that's really a noble thing to do. God bless.



• India
23 Apr 13
I also think that some people do good for us in our lives. I have also come across lots of people who have done good towards me in our live. I think it is the attitude of those people that matters more and I like these kind of people who do good for others.