She loves her new leash!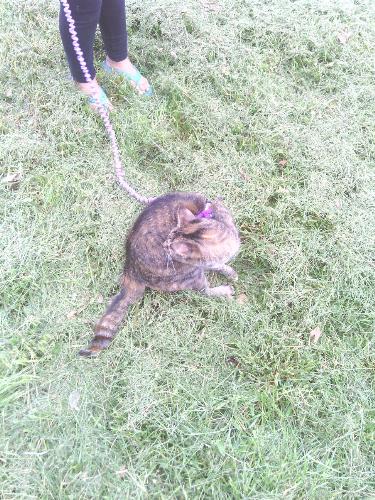 United States
April 26, 2013 7:50pm CST
I bought a leash for my daughters cat from Amazon.com the other night and it came in the mail today. We tried it out on her as soon as the package came. At first she didn't know what to do, so she just sat there. She is an indoor cat. She was born in the wild and moved here when she was about 4 weeks old. After a few minutes she started walking around in the grass and up and down the sidewalk. She was loving it. I think she was a little upset when she had to come back inside. I think she tuckered herself out though. She has been passed out on the kitchen chair since she came back inside about 2 hours ago. Have you ever bought a leash for a cat? Would you ever? Did you know such a thing even existed?
10 responses

• Rome, Italy
27 Apr 13
until i read this discussion, i never knew they existed. i guess i'm not well informed when it comes to cats. however, i'm puzzled. why do cats need a leash? i mean, i can understand the leash with dogs because we have to walk them. but with cats? excuse me for my ignorance again, i'm just curious...

• United States
27 Apr 13
My mom had collars and leashes for her cats and would walk them occasionally. My cats don't go out at all though.. I find once they get out it's too hard to keep them in. So far Turbo is not doing well on the leash. He doesn't like being outside at all.. he doesn't like being out of reach of the kids, he whines and whimpers when he can't reach them or if they go in without him. He's obviously got some separation anxiety!

• United States
27 Apr 13
Yeah, once he gets used to the idea that he's here to stay and none of us are going anywhere.. well, other than work and school and stuff but we'll come back.

• United States
28 Apr 13
It's great that she took to it so quickly. Some cats aren't too keen on the idea of being on a leash! LOL With that said, my last cat was used to being on one. This was back before they had cat leashes, so I'd buy ones that were made for small dogs.

I got him accustomed to it when he was just a kitten. He did beautifully with it too...he was just like a dog!

My husband and I used to take him just about everywhere with us, so he was used to trips in the car as well. So much so, he had his own spot...as soon as we got in the car he'd lay down right across my husband's shoulders.

That's how comfortable he was! LOL By the way, I do not recommend driving this way as it's not safe at all! Happy mylotting!

• United States
30 Apr 13
She makes you pick her up and carry her outside, but once she is outside she walks around exploring. So far we have only had her in the back yard because it is fenced in and my daughter is the one who is holding the leash most of the time. She is only 6, so I want to make sure she will hold onto it before taking her out the front door.

• India
27 Apr 13
today i came back my home after office i show my neighber cat is rounding inside my home i told them u should care your cat and look after where is she,,and u should give she good and batter facilites ,,,if u will give batter facilities she will not go out side your home, u should buy leash for she .its batter for she??

• United States
27 Apr 13
I had a neighbor who used to live next door to my current apartment. I saw her once outside with her cat on a leash. It was the one and only time I had ever seen that. I think it's a great idea. I always wondered why people didn't try it. I have seen so many posters of cats missing and people offering rewards. I figured if you could walk you cat on a leash it would be able to go outside, but not run away. Also, I have to say, it would nice if cat owners would pick up their cat's poop. When cats go out alone their owners of course have no idea where they poop. If the cat is on a leash...The cats that belong to my parent's neighbors always poop right next to my parent's doorstep. EVERY SINGLE DAY. I mean, what do you say? My dad isn't going to go over there and say, come clean up your cat poop. I also with the dog owner's in my complex would clean their dog poop up. I swear I'm the only one. You get fined 25 bucks every time someone from the office sees you not clean up your dog poop. I can't afford a 25 dollar fine so I clean mine up. It seems that no one else is afraid of getting caught. So they let their dog's poop anywhere and just leave it.

• United States
12 Jan 16
Hi there I know this post is now almost 3 years old BUT curious how the cat is still enjoying the leash or has decided it is not for it ? Have a great New Year 2016
@lilybug
and nice to meet you here


• Bulgaria
27 Apr 13
I know that it has leash for cats, but trully I've never see it. You say that she likes it and that's ok for you and her :)

• United States
27 Apr 13
I would hate to put a cat on a leash, but I would consider it. Cats if they are free to roam, which is natural of course, and I would prefer it that way, but they are susceptible to all sorts of disease then which puts them at risk, so I think a leash is not so bad an idea.

• United Kingdom
27 Apr 13
It is lovely that you bought a leash for your daughter's cat. I had no idea a cat leash ever existed. I notice that her cat was born in the wild. I am glad she got used to the leash and happily walked along the side walk. At first she didn't know what to think of it. A leash is essential for dogs. I have two miniature poodles. I hope your daughter's cat goes on lots more happy walks on her leash.