Hotel unavailable forever?!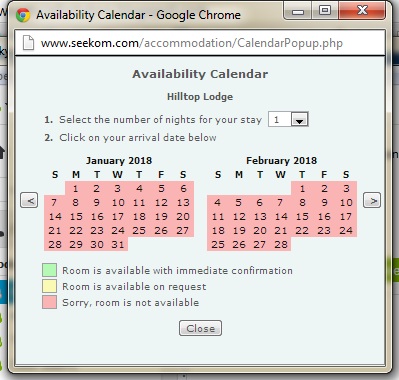 Philippines
April 30, 2013 9:58pm CST
I was doing a task in hotel reservations. I need to know the available dates, room rates, terms of payments and extra features and fees. I came across Hilltop Lodge (heard before?) and checked their availability calendar before proceeding with other items. It has a color-coded legend: Green for available with immediate confirmation, Yellow for available upon request and Red for unavailable. Starting May 2013, all dates are marked red - meaning unavailable. So I kept of pushing the next button to see which can be green or yellow. But as I was happily pushing the next button, I saw that the year was almost year 2018 and still all dates are red! I continued until year 2024 and still all red! Is this really possible? Have you experienced this, too? Thanks for sharing!
3 responses

• Rome, Italy
1 May 13
there must be something wrong with their site. i doubt if plenty of people will plan their activites years ahead. however, IF this data is true, this hotel must be earning tons of money. in today's economic crisis where almost all businesses are going down, this hotel is the only exception.

• China
1 May 13
Maybe they are not updated now. You should call the hotel and ask why.

• Preston, England
27 Oct 15
it sounds like a glitch on their site. You might want to check with them directly by email or phone