Why No One Can Ever "Rest In Peace!"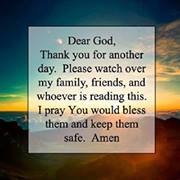 Oklahoma City, Oklahoma
3 responses

• Shenzhen, China
7 Nov 13
Good point!So when somebody die, we say that he has the peace.

• Shanghai, China
6 Nov 13
Christians's world is hardly to know ~It seems i should learn sth from Bible ~

• Oklahoma City, Oklahoma
7 Nov 13
Maybe, but the one-&-only purpose of the Bible is to teach you to live like Lord Jesus Christ (Y`shua bin Yosef) True, the world would be Heaven if everyone lived like Him; but it might not work out the way the greedy want it to.