Do people really Sleepwalk?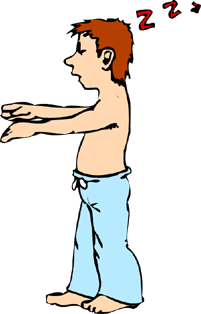 India
November 23, 2006 4:44am CST
I was just wondering if sleepwalking is real or just a myth locked in movies and cartoons?I haven't heard of any real incidents. Share your knowledge about this and also if anyone could give me some incidents it would be nice. Thanks in advance.
5 responses

• India
23 Nov 06
it is not a myth! Sleepwalking (also called noctambulism or somnambulism), under the larger category of parasomnias, is a sleep disorder where the sufferer engages in activities that are normally associated with wakefulness while asleep or in a sleeplike state. see: http://en.wikipedia.org/wiki/Sleepwalking

• United States
23 Nov 06
I knew of someone who sleep walked. he would actually go to the kitchen and get something to eat but not remember it. they say you should never wake a sleep walker either.


• Ireland
7 Mar 07
I have done it since I was little. They used to have to put a chair in front of the door to keep me from getting out. It is very real!

• United States
24 Nov 06
I actually watched a reality tv show last night, and I was amazed by the fact that you can use sleepwalking as a defense for murdering his parents... the verdict was not guilty..the defendant got away with a crime that has been done while he was asleep.