Whats your monthly expenditure?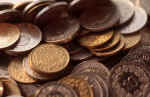 India
November 23, 2006 7:10am CST
How much do you spend in a month on an average?
3 responses

• India
23 Nov 06
I spend around 18-20 grands evey month.I really want to cut down on the same but every month the expenses just keep growing higher.electricity bills,telephone bills,society maintanence charges,mobile bills and god knows what not.Living in mumbai is becoming more and more expensive every day.