Coke or Pepsi?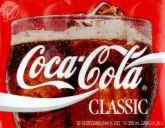 United States
November 23, 2006 7:57am CST
i prefer coke, i just like the taste so much better how about you
9 responses

• United States
19 Dec 06
i actually prefer pepsi...however, i can remember when there was only coke, and i was drinking the "REAL" kind way back when...lol...but now i really prefer pepsi..i don't know, but it seems that after they changed coke for the first time, i just never went back to drinking it


• United States
14 Dec 06

thats a tough one for me!! i really enjoy both. it just depends on where i am and who has what soft drinks lol...

• Malaysia
9 Dec 06
I prefer coke too. Let me share with you all a short story about the coke. The first coke is not a softdrink but it is a medicine for flu and is make from herb. But then not much people like it and the business are really bad until there are one customer that told them that coke can make him feel fresh. After that, the coke company start to modified the drink to become the softdrink that we have today.