Dog hair clipper

September 5, 2006 11:19pm CST
I have a chow chow dog and i want to buy him a hair clipper. Which dog hair clipper is the best?
5 responses

• United States
27 Sep 06
I ama proffessional dog groomer, can I ask you what you are wanting to do with your chow? are you looking at shaving him down or just trying to clip some matted hair, etc?

•
14 Oct 06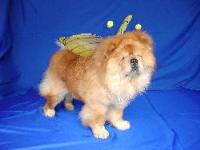 I don't intend to shave off all his hair... my chow tends to shy away when he is bald. i just would like to give his hair some shape... maybe trim off the ends. i ordered an Andis dog hair clipper #22350. do you think this hair clipper is ok? thanks for your help. i'll send you a picture of my chow.

• United States
1 Dec 06
I am also a pro groomer in cases like this I would do a hand scizzarded what I call teddy bear cut .It is simply the hiar slightly shorter all over .I have found you well need the longest buch blades and really they don't work on this type coat it is just too thick .I hope you had good luck though .


• United States
14 Oct 06
Chuckie...Your chow is very pretty. You might try using a snap on comb that attaches to the any of the andis clipper blades, with a snap on comb you can skim the top hair and do some shaping up with out making her look like she has been shaved. Hope this helps and if you have any other question please feel free to ask, I am always willing to help out people who are interested in taking care of their pets.

• United States
14 Oct 06
I love your pic, he is beautiful! I went to the beauty supply store (where the professional hair stylists go) and got clippers there. It really made a difference when it came to those 'trouble areas' where precision trimming is needed. It also had lots of attachments, which could be used for thinning and such. I don't have a long-haired dog anymore, but still use the clippers to touch up the dogs I have now. Even shorter haied dogs need a little 'finishing' some times! I hope you find some clippers you are happy with!