Best of both worlds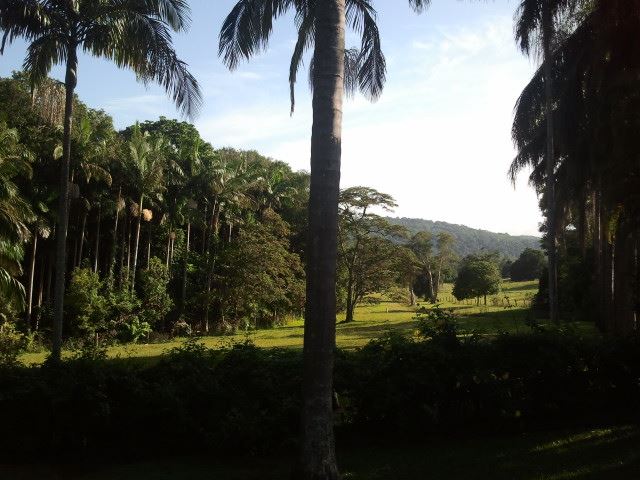 Ballina, Australia
September 22, 2015 6:24pm CST
I am very fortunate to live in a subtropical part of Australia. Where I live is coastal and surrounded by beautiful beaches. While some get very crowded in tourist seasons, others are tucked away, hidden behind sugar cane farms and only those of us who live in the area, know they exist. My favourite beach is one of the "hidden" ones. Usually, I am the only person using it. Occasionally there will be a fisherman or two or perhaps another person walking their dog. I have even seen someone exercising their horse on the beach. I love the seclusion of it. It sometimes feels I am the only person in the world. I love the feeling and the peace of being alone in nature. As I regularly care take my friends' beautiful 175 acre cattle farm and collie dog stud, I get to enjoy the best of both worlds - the coast and the country. The farm has huge pockets of dense scrub and littoral rain forest where Eucalypts, palm trees and climbing plants coexist. Beautiful sunrises are even more special, listening to kookaburra and a variety of parrots and cockatoos calling the new day. At night, with no lights for miles, the sky is filled with stars and the Milky Way looks amazing. Of course, nowhere is perfect and there are snakes, which are one of my worst fears. We have several deadly species in Australia - and most of them inhabit this area. For that reason, I don't traipse through the heavy scrub and only walk where I can see the ground. Last time I was at the farm, I saw a snake in the stables that accommodate the dogs. Luckily, the dogs are good at dealing with snakes. This particular snake was dead, with its head stomped on by a brave dog. The peace, beauty and seclusion of the farm makes the risk of meeting a snake, worth it. We can't live our lives in fear or would miss out on wonderful experiences. Do you agree? What is it like where you live? What is your area known for and what makes it unique? The photo I have attached is the beautiful view from the front verandah at the farm.
5 responses


• Ballina, Australia
23 Sep 15
@Salamnda
How wonderful. Ours is a very young country and doesn't have such lovely historic buildings.

• United Kingdom
23 Sep 15
@MoonHowler17
yes thats true here is some photos i took in some historical places you might want to check out :) this is in the east of the country and this is in the west https://www.facebook.com/bumedian/media_set?set=a.1646899509087.49818.1734925793&type=3

Hisham Bumedian is on Facebook. Join Facebook to connect with Hisham Bumedian and others you may know. Facebook gives people the power to share and makes...

• Ballina, Australia
23 Sep 15
@Salamnda
Thank you but I have a habit of not following links. I will happily view any photos you post here.


• India
23 Sep 15
i have read a lot about snake infested Australia and you are wise not to walk in places where you might encounter them. I have visited Australia and whatever I saw there was breathtaking.

• Ballina, Australia
23 Sep 15
@allknowing
I am glad you enjoyed our beautiful country. What areas did you visit?

• India
23 Sep 15
@MoonHowler17
We started with Brisbane,Cairns, Queensland,(The Great Barrier Reef) Sydney, Melbourne This space is not enough to give you all the details


• Ballina, Australia
23 Sep 15
@allknowing
Awesome! You saw a lot more of Australia than many Australians have


•
28 Sep 15
Where I live is a barren wasteland covered in white squirrels. Or something like that...

I'll trade with ya.



•
28 Sep 15
@MoonHowler17
The snakes don't bother me, just don't offer spiders.


• Roseburg, Oregon
22 Sep 15
Your country sounds very beautiful and a place where anyone would love to visit.

• Ballina, Australia
23 Sep 15
@jstory07
You are braver than some. Overseas friends have told me they would never come here due to our venomous snakes and spiders


• Northampton, England
4 Nov 15
An empty beach and lots of collie puppies - it sounds like paradise to me.