Beauty lies in the hands of the maker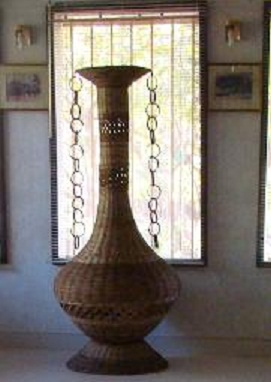 India
October 18, 2015 9:49am CST
We have heard of the saying 'Beauty lies in the eyes of the beholder' Here was a maker who created beauty, He was in tatters sitting on the roadside weaving away I stopped by and I could not take my eyes of what he had produced. He had used ordinary bamboo strips and created this wonder. I called it the goblet. It is about 6' in height. I just paid him whatever he asked for and it is now adorning our hall.
7 responses




• Roseburg, Oregon
19 Oct 15
That looks really nice. Having something different is what I like.


• India
19 Oct 15
If the same item was sold in any of the more sophisticated places it would have fetched a forftune


• United States
18 Oct 15
At first I thought this was a religious statement. I agree with you that artists do create lovely objects.

• United States
24 Oct 15
that's outta bamboo?? oh my gosh, it's jest gorgeous! what a blessin' to've such adornin' yer home. i wish there were more artisans in these parts, these sorta thingies jest speak to me.

• India
24 Oct 15
Art can be seen in any person but unfortunately only those who have kind of a status in society are recognised. That is made from bamboo. He has used both sides so that there is contract in colour.

• United States
24 Oct 15
@allknowing
what a shame, coz this fella's got a gift. no doubt there's many in yer country with such. here in the u.s., there's few who feel 'tis worth their time to craft such by hand. 'least in these parts. turnin' to machines to do their work, that loss 'f the touch'f ones hand, the feel 'n life they put into their wares lost.