Did human realy landed in moon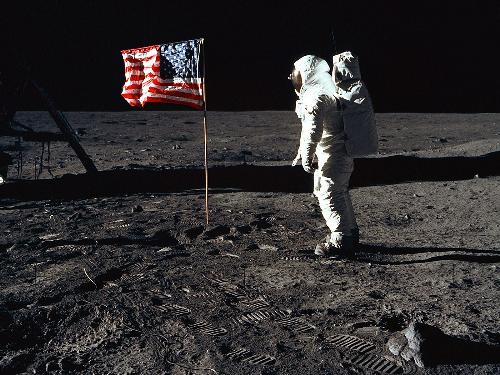 India
November 24, 2006 1:16am CST
is that true that human landed on the moon????????????? i had seen on discovery chennel that it was fake they did go to moon they had shooted in the studio the reason for this is there is no air on the moon so how the flag of us is flying there on the moon??????????????? wot u think????????????
5 responses


• India
24 Nov 06
i have asked a question? u need to answer me wot u think abt it ???????

• Romania
24 Nov 06
i believe that human didn't land on moon.It's a fake released in Nevada desert.Reasons are the flying flag and the shadows which are not paralel so the light come from many sources of artificial light not from the sun

• United States
24 Nov 06
I will be happy to tell you what sucks... It is people that were not alive when the moon landing really happened, and then they question it now that they are here, and they can't learn this in their school where they should learn to speak and write and spell correctly and can't or wont... Now that's the real problem... What's wrong with you asker???

• United States
25 Nov 06
It seemed to me you were questioning if the event took place or not, and didn't believe it because you were not here to witness it... You think it is heresay... Well I was here and I witnessed it and so did millions of Americans so we know it did happen... Your teachers in school and your history books should say so, that way you don't have to question it... So what if a knock off movie was made saying it isn't true... You going to believe all the fake Hollywood movies, just cause the fake far outweighs the real??? That's how people get mixed up...


• Australia
24 Nov 06
Yes, I believe that man did land on the moon. If the cynics think it didn't happen, perhaps they can also tell us how so many people have kept the fraud a secret for so long. There is no way that such a thing could have been kept secret, but that is what the conspiracy theorists would like us to believe. Man landed on the moon. :)