What Does Taelia The Snow Faerie Have To Offer?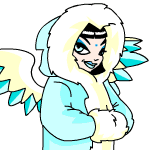 United States
March 3, 2016 1:58am CST
There are a lot of different types of quests that you can do at Neopets; I prefer the ones that will give you stat boosts or high ticket items but after washing out on Illusen's Glade the last time I stayed away from them for a while. If you don't want to commit to something that's going to require 30 or 40 quests to complete it (and earn some great prizes along the way) then you can stick with the single quest versions that ask for three or four items and can reward you with sweet prizes (or complete junk) Today I hit the Snow Faerie to see what she was doling out. You can find her on Terror Mountain at the top of the hill or just swing by this URL: http://www.neopets.com/winter/snowfaerie.phtml White Chocolate Kacheek (2,900NP) Fizzy Apple Juice (2,000NP) Carton of Orange Juice (350NP) "Taelia gives you a Neopian Jambalaya, a magical snowball, and 2297 Neopoints!!!" Considering the Neopian Jambalaya sells for about 1,400NP and I had all the items needed for this in my Safety Deposit Box it wasn't a bad quest. I did end up with some NP but the snowball that I got (Yellow Snowball) is common and unless there's a war happening chances are you won't have any need for it. Do you like the one time quests or ongoing quests? Have you ever gotten an UB or retired item from completing one? Would you rather back out of a quest than to pay 2mil for an item?
1 response

• Rochester, New York
16 Mar 16
My eldest niece likes going on the Neopets site. She got her younger sister hooked on it as well.