Funny what we will believe...Vodka Soaked Tampons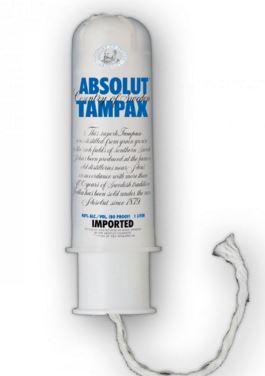 United States
March 10, 2016 10:20pm CST
Looking through past posts I put here, its crazy how much I've grown since. I found one of the last posts I created before I stopped participating here, and I have to laugh at how naive I was. It was about kids using Vodka Soaked Tampons smh lol http://www.mylot.com/post/2737152/kids-are-nuts-today-vodka-tampons It was rumoured back in January of 2013 that high school kids were getting drunk without detection by soaking tampons in Vodka and then putting them either in their vagina or up their rectum. And since I saw this on the news and was understandably shocked, I posted here to discuss. I know now that you have to do your own research, even if your first source is the news. Its crazy how I didn't think once about the practicality of this happening, but I learned some time ago through a FaceBook video that not only was this false, there's no way that this could have happened. http://www.huffingtonpost.ca/danielle-crittenden/vodka-tampons_b_1105433.html If you read the article there, the short version is tampons fall apart when wet, not much alcohol can go into a tampon, much less be retained during insertion, and it burns like ding dang bejesus to put any type of alcohol on an insidey part. All common sense things when explained. But once again its funny to look back on what you were willing to believe in the past. For people that have come back to Mylot after years, do you go back to your old discussions? Do you see things that you were passionate about, but you learned later were completely false? I just had to post something to address this error, because it was sure dumb to believe when I did lol
3 responses


• United States
25 Apr 17
Maybe this never made it to the news, in your part of the world. But it sure was here, and I fell for it like a dummy! lol


• United States
11 Mar 16
I went through a few of my old discussions last night. I may go through some more, but probably not tonight. I have a bit of relearning to do in order to go back into working online part-time again.

• United States
13 Mar 16
Hey Visitor Invasion! I remember your name but I may be off....were you the one with the Native American Painting of a woman in the old MyLot? I may have you mixed up though. Anyways, I'm finding its a good way to get some ideas for new posts. Anything written that long ago can use an update, plus if you were like me and used MyLot to get into some personal things, its a great way to self-reflect and highlight what your experience has taught you since then.

• United States
5 Sep 16
@drknlvly6781
Nooo....you had a picture of a cowboy that looked like a kid drew it or something...right?

• United States
11 Mar 16
I would always believe this could be done. If you soak it fast enough you sure as heck can insert it. Plus there are some really crazy and stupid people in the world that will take anything to get high. If you put your hand in my bath water you would not believe I bath in it. You would need to see me step foot in it. That is how hot my bath water is. My skin has to burn to make me feel clean. I think at times that is why my skin burns all day. But,I did hear a few stupid people say they tried this and I trust their stupidity to be just that. Now I am not saying your wrong. just that I know people who tried it.


• United States
11 Mar 16
@drknlvly6781
You can sure say that again. I would not dare do that to my nice parts.