Mylot mobile, MyLot on the go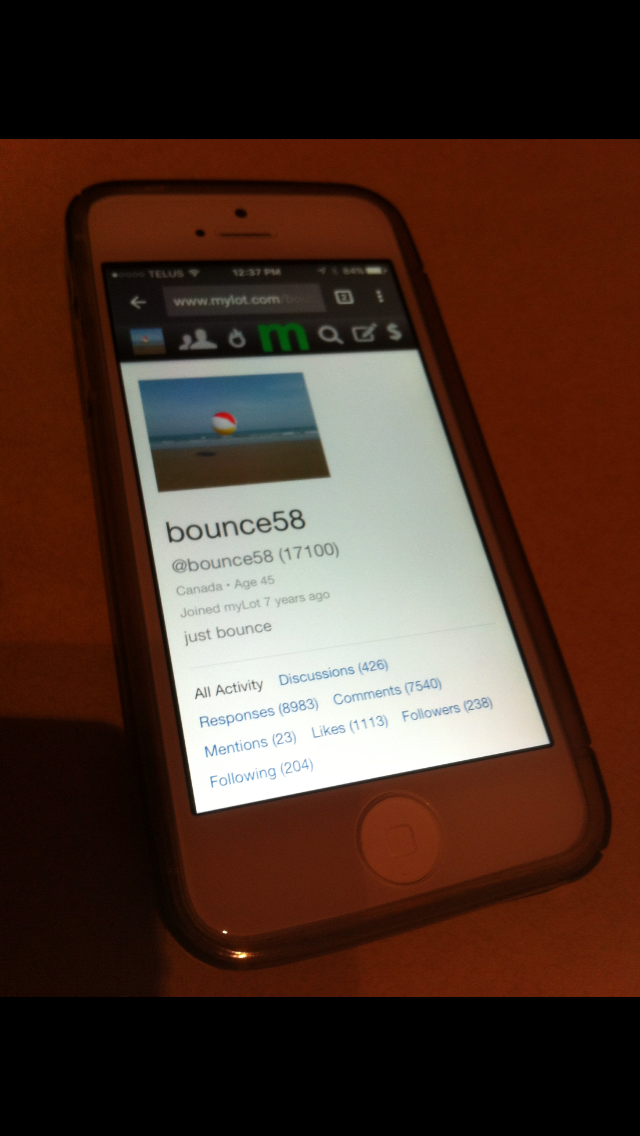 Canada
April 1, 2016 3:12pm CST
I'm really glad that there is now a mobile site for myLot. Even though I work from home, and work in front of a computer, I always find myself doing "other" stuff during the day, in-between meetings. I often run around doing chores, or bringing/picking up kids to school/friend's house, etc. And there's always down time where I'll just be sitting in the car waiting. The mobile site helps in passing the time. Instead of lugging around my computer, I could now simply just log in thru my phone and comment/respond to posts wherever I am. Do you use the mobile site too?
10 responses


• Roxas, Philippines
7 Apr 16
@bounce58
I've been using phone to interact since my return here in mylot. It's just so convinient

• Los Angeles, California
3 Apr 16
Nice mobile "selfie"

! I guess I'm a desktop die hard - but sometimes when I am out, I will whip out the phone. The thing is I still fumble with the touch typing on the phone and make LOTS of errors - so I tend to just "check" or "read" - and maybe make a few comments if I can - but rarely post. So although I am myLotting from the desktop in most cases, it's nice to know that if I really wanted to, I CAN myLot on the go.


• Canada
3 Apr 16
There's errors too because (of my chubby fingers) the text is smaller on the phone and sometimes you don't see spelling mistakes. But it was worst before when you have to open the full site. Then you have to keep moving the screen and expanding the view.

• Los Angeles, California
3 Apr 16
@bounce58
Those spelling mistakes drive me NUTS

! I think no matter what kind of fingers anyone has, it's hard to type with just thumbs or onesie fingers. I type super fast on a normal keyboard, so the phone typing makes me ultra frustrated. And small text is another thing (my "old" eyes are going these days) - but yes, having the mobile site helps a lot!

• Canada
3 Apr 16
@much2say
It's funny that you say that spelling mistakes drive you nuts -- as I am the same. I've made a few spelling mistakes these past few days here on myLot (typing on the phone while sitting in the car, at night while waiting on a few people), and it's still driving me nuts today!

• United States
5 Apr 16
I love how myLot is very mobile friendly. I use it on the go or when I'm waiting around!!

• Valdosta, Georgia
1 Apr 16
Yes I am on my phone right now actually since were on our way to a doctors appointment for the baby. I love it! =)

• Canada
1 Apr 16
I can remember years ago complaining about it. And even though we can open the full website from the phone then, it just wasn't easy to navigate because it was not a mobile site. I could definitely use it for a doctors appointment because it usually involves a lot of waiting when you go see a doctor.

• Valdosta, Georgia
2 Apr 16
@bounce58
Yes there is always somewhat of a wait at any doctor so it's good we can be here too!

• Roxas, Philippines
6 Apr 16
Looks like I'm not the only one who enjoys the now mobile-friendly myLot. Just in time when I was thinking of buying a new tablet.

• Roxas, Philippines
6 Apr 16
@bounce58
I agree. At least for now, while I'm some cash to buy a tablet, I can now make good use of my phone.

• United States
1 Apr 16
Yes, and I use the mobile site a lot more than I use my computer. I always have my phone with me at school so sometimes I use it there and I check myLot as soon as I get home in the evening (if I remember).

• Philippines
5 Apr 16
Haven't tried it but meaning to do so. The last time I tried, all I got was an error message.



• Preston, England
6 Apr 16
good to know there is a mobile site though I will use a computer first - it could increase traffic and revenue here though

• Philippines
1 Apr 16
My phone doesn't have a feature that will allow me to check the internet. but i do have another phone that does.