Get me off this roller coaster!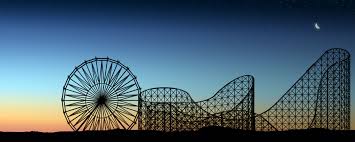 Canada
April 7, 2016 11:18am CST
There are just days when you get dizzy from everything that's happening around you. Not only is it going up and down, sometimes it just goes in circles. Sometimes even in the dark! You can't help but wish that you were someplace else. Or be left alone so nothing can bother you. It just gets so overwhelming sometimes. How do I get off this ride?
8 responses

• United States
7 Apr 16
I know the feeling all too well. Some days I pray for a boring life. It's underrated, for sure.

• United States
8 Apr 16
@bounce58
Those who say a boring life is not living have not had their share of obstacles to deal with! lol On these calmer days, I can actually be grateful for all the good things around me and I can enjoy life instead of watching my every step. It's a whole different way of living. :)

• Canada
8 Apr 16
@CRK109
I do appreciate this 'different' way of living. i think I'm wired this way. I could appreciate little things which others may deem as common or mundane. Sometimes it's just hard when you're surrounded by people who are of the other kind.



• Canada
7 Apr 16
I've been wondering that for a long time. I tell people my life seems to be on a permanent spin cycle.

• United States
10 Apr 16
Ah, I know the roller coaster you're referring to. The roller coaster of life. I hate feeling like I'm not in control, and the sad part is I seldom really am in control of anything that happens in life, I mean we can control some things, but most things just happen. You can only really control certain aspects of your life.You can be who you are and deal with the backlash of people not liking who you are, or you can lie your way through life. I often wish I could be someone else, just to see if the grass really is greener on the other side of the fence. I find myself wishing I could have things just a little easier, but then again I could always have things harder. There is always someone that has things easier or harder than you do. When I find myself feeling out of control, I remind myself that things could be worse.


• United States
10 Apr 16
@bounce58
I get how hard it is, but sometimes the best thing we can do is let go. I have an ex friend I had to get rid of because he was dragging me down and making me feel bad about myself, and a real friend doesn't do that. I'm a loyal person, if I'm friends with someone I do my best to stay their friend, but I also don't let a lot of people in, but when I'm in I'm in, which is why letting go for me is difficult. I am not so much a control freak, but I like being in control of myself and my actions, I don't feel the need to control the things around me. I too am a loner though, and that's something that makes my life a little difficult at times, because as a loner it's harder to make and keep friends, because you need people that really understand you that know how you are and still want to be around you. I don't have a lot of friends, but the ones I do have I've had forever, because they get me for the most part or as much as I'll let them know me, and I'm loyal. I make sure to find time for my friends. I've dropped certain things so I could help out a friend, but I'm not entirely sure they would do that for me, some of them might, but regardless I try to make sure I keep my friends, so having to cut one out of my life was difficult for me, and to this day it bothers me, but sometimes we do what we have to do. We can't control life, but we can control the way we handle situations.

• Canada
11 Apr 16
@sissy15
I am the same in terms of friends. As a loner, it's hard for me to open up even with friends. Most of the people I consider real friends are back In high school. It's hard to find new ones because I don't feel they get me. And for those who call me friends, like you I could drop everything if they nees my help (and like you, I don't expect them to do the same if I needed help, not that I would ask for it anyway. I'd probably be just joking about it and making them laugh).

• Canada
10 Apr 16
I too hate being not in control. Specially for a control freak like me. I recently responded to a friend's post here about letting go, which is hard for me. I'm also a bit of a perfectionist which makes it doubly hard. Control-freak, perfectionist, melodramatic loner -- these are some of the things about myself which I wrote about in your post.



• United States
7 Apr 16
I want to hear more about this ride you speak of. Are you overworked? Is it your job, family, finances, personal life, or just a nice combo of everything? Yesterday I may have agreed. Day to day life can be frustrating. Whatever it is - stay positive!

• Valdosta, Georgia
7 Apr 16
We all definitely have days that feel like this! I hope you can escape the ride soon, and we are here to listen about whatever it is.


• Canada
7 Apr 16
Thanks
@LovingMyBabies
! Just venting off here. I'm already here on myLot trying to 'get off the ride'. Maybe I just need some alone time to collect my thoughts.



• Holiday, Florida
7 Apr 16
I often feel like that literally. thing go dizzy all day some days

• United States
7 Apr 16
I am dizzy all the time