Honor rolls and kid's rewards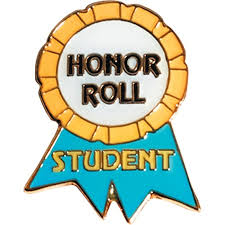 Canada
April 12, 2016 10:03pm CST
My son told me tonight that he's on the school honor roll. He said it in a matter-of-fact way, as if it was no big deal. He says that the school is giving all of them on the list a pizza lunch tomorrow. I also didn't make such a big deal about it. I didn't offer him any rewards, and he didn't ask any. This is completely opposite to the way I was raised. I always made the honor roll when I was young, and my parents would make such a big deal about it. Granted that we didn't have much back then, but we always made it a point to have dinner somewhere special (or at least special to me anyway), even if it was a small rundown restaurant 'round the corner. Although I could say that the way I my parents treated it pushed me to always do better, and be in the list all the time, I now realize that there are also negative aspects about it. That's why I choose to do it differently with my kids. How about you, do you celebrate the academic achievements of your kids? Do you have any insights on which is the better way? Maybe you could enlighten me before it's too late.
5 responses

• Philippines
13 Apr 16
I don't have kids but if I do have kids in the future, I'd like to celebrate academic achievements. Growing up, it was like that for my family. I have two older brothers and every year all three of us would get awards. We attended public school and a student had to work hard to get awards. In high school, I graduated in 6th place out of 800+ students and my brothers also graduated in the Top 15. I think that was something to celebrate. In many private schools these days, everyone gets awards! I don't like that. Even the simplest of things are rewarded. I see these days some classes are really small, say 20 students, and there's a Top 10, and the other 10 students not in the Top 10 would get awards like Most Polite, Most Neat, Most Friendly, etc. There's also this new thing I see--the Moving Up Ceremony, When I was in school, when one grade ended, you moved up to the next grade and that was that. Now I see these Moving UP Ceremonies to celebrate all the students' achievement in getting to the next grade. I'm quite conflicted on my feelings about that. I think it is good that your son is on the honor roll, and I think it would be nice if you'd show him your appreciation for his achievement.

• Canada
13 Apr 16
I think that in the same vein as your observations in private schools were they seem to be celebrating mediocrity, I too wouldn't want to celebrate my son's achievement. Although I'm happy that he did this, I would like to teach him the leason that high school achievements such as this does not guarantee success in life. That these kinds of things should be the norm. That way he'll have a better chance of a bright future.

• United States
13 Apr 16
I don't think it is wrong that you don't celebrate it and I don't think it would be wrong if you did. I know lots of parents who celebrate it and lots that don't. It is just a personal choice. I usually don't buy them rewards for it but just tell them how proud I am and how well they are doing. This time I did get them each a little toy that was about $4. My mother celebrates it more then I does she gives each of my kids $5 or $10. My daughter who is in 6th grade made highest honors. Her gpa this 3rd quart is 94.4. My son is only in 2nd so his gets graded different. Based on his grades though I'd say if they did it the same way his would average honor roll. Congrats to your son by the way!

• Philippines
14 Apr 16
@shaggin
"I usually don't buy them rewards for it but just tell them how proud I am and how well they are doing." - i think that's the best way because it's balanced.

• Canada
14 Apr 16
@shaggin
For some people that works! For my personal experience, I've come to realize that I don't like it because now I go looking for a reward when I do something hard or difficult. Like as simple as getting healthy, I would go jogging in the morning, and afterwards I would reward myself with a treat (which is usually not good, healthwise).



• Philippines
14 Apr 16
I am not yet married nor have kids of my own. I only have a 6 year old niece and an 8 year old nephew. Awarding kids with material things once they get an award is optional. I think it is a matter of choice if you will buy them gifts or not, if you will treat them outside or not. In my own opinion, gifts or eating outside does not matter much. On the other hand, words of praise I think is a must. Once a child is always praised by his doings, I believe that it will make him study more. I say it because that is what I felt when I was a kid. The more my parents make me feel proud of me, the more I get motivated.

• Canada
14 Apr 16
I think it's different with every kid. For some it may just take a few words of encouragement, like you, to get motivated. Others might need some form of reward. But that's the great thing about the kids not being your own. If they are your niece and nephew, you could always spoil them with rewards. It can even be viewed as your duty -- because you're not the parent.

• Los Angeles, California
13 Apr 16
My parents didn't make a big deal out of our achievements. I think I learned that the ultimate reward IS the achievement itself. That being said, I always had this sad feeling that I wasn't achieving enough in my parents' eyes . . . they rarely praised me and often said negative things - which I realize now that was their way of pushing me to do more. With my kids, I guess we treat it somewhere in between. We praise them for a great achievement, but we don't have an all out celebration for it. Maybe we'll have a special treat or outing at a later date as a reward for an overall good job for the past few weeks kinda thing. The kids might try to convince us to take them to the toy or book store

but they can get dad to give in more than me

. Congrats to your son for making it on the honor roll!



• Los Angeles, California
15 Apr 16
@bounce58
Yep, the negative parts from my parents are still thorns in my head. But yah, sometimes the negative stuff just kinda blurts out right? Ah, even we are human. Maybe, if anything, talk to your son and see how he feels about it all - maybe not about a specific reward, but how he feels about achieving those accomplishments. Showing that you care to know is a reward too. I wish my parents talked to me about how I felt about things.

• Canada
13 Apr 16
Thanks
@much2say
! I want the way you were raised, to be applied to my kids. But maybe minus the negative things (although sometimes I couldn't help myself

). I want them to realize that the ultimate reward IS, like you say is the achievement itself. Just not sure if it is sinking in though.
And although I try not to be, I could also be a pushover when it comes to my kids.



• Philippines
13 Apr 16
but were you surprised he was on the honor roll?

• Philippines
13 Apr 16
@bounce58
they were smart because you're also smart? do you feel/foresee they will achieve far more than you?