The era of Emraan hashmi songs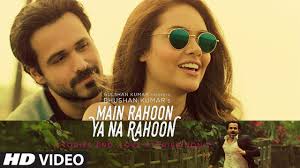 Pune, India
April 20, 2016 3:30pm CST
If there are some things that Indian cinema will be remembered in the post 2004 era, one of them will surely be songs of Emraan Hashmi. I think as much as serial kisser tag helped him in initial days of his career, his songs were instrumental too to take his films and career to different league. I have never seen any actor getting so many beautiful, intense and passionate songs to his account so consistently. I have always felt Emraan Hashmi has great dialogue delivery which covered up for his just about average looks and the songs that he got have been evergreen hits. To mention about the songs will be difficult here, but few songs like Zara si from Janna , Tuhi Meri shab from Gangster, Kaho na Kaho from Gangster or Aashiq banaya Aapne were not only chartbusters, but they are still popular among youth.Most of his movies, whether hit or flop, had amazing songs. Some of the movies that I can remember are Zeher, Chocolate, Aksar, The Train, Jannat, Tum Mile and Humari Adhuri kahani recently, all had phenomenal songs. The most striking them about his songs are they connect immediately with heart, they have some element of Sufism and they feel very young with high amount of passion in music and lyrics. In last 10 years, no other actor has been part of so many superhit songs as him.Yesterday itself, I heard song bol Do na zara song from upcoming movie Azhar, and it was again an amazing romantic track with some pinch of pain in it. The youth loves his songs because such songs speak their heart. His songs work both ways, they are romantic on one side and they have something for people who have lost out on love, as there is some pain, some sadness too in his songs. Most of Emraan hashmi fans wont mind him not kissing in movie , but they all expect some fierce dialogues and atleast a couple of intense , passionate romantic songs for sure, which gave him a different status in film industry.

Aaaa… Ae Humnava, Mujhe Apna Bana Le… O partner of mine, Make me Yours Sookhi Padi Dil Ki Iss Zameen Ko Bhiga De (Please come and)Drench this barren/dry grou...
5 responses

•
6 May 16
Imran Hashmi had acted in serious films also like Dirty Picture opposite Vidya Balan, Once Upon a time in Mumbai, etc.

•
6 May 16
@avi256
Yes Avinashji, Imran Hashmi knows acting.

• India
22 Apr 16
I agree with most of the things you've mentioned and would like to add something: He is perhaps one of the few Bollywood actors who has always led a non-controversial life and preferred a private life instead of the glamorous limelight. The way his son and the entire Hashmi family has fought his son's battle with cancer is truly amazing! Hats off to this guy.

• Pune, India
22 Apr 16
@VeeDoo
Yes indeed, even though being a tagged as serial kisser and working with probably the most beautiful actresses around, he was never heard of any controversy, infact he said in an interview, he is very much unlike his real life image. His son's cancer was the most tragic event of his life but he overcame it with great fighting attitude.

• India
22 Apr 16
@avi256
True that! That's one of the major reasons why I have immense respect for him as an actor and a human being :)

• United States
5 May 16
I find him very sleazy. Every movie he acts in, he always has bed scenes in movies!

• United States
20 Apr 16
Is this actor still around today?
• India
5 Mar 17
I think imran himself choose his songs.He has great sense of music.Salman khan himself choose songs for his movies.And he choose sIngers also.Emran movies songs always tops charts.