Who plays online poker?

United States
10 responses


• United States
25 Nov 06
Yeah, one of my buddies just made $100,000 last night playing on PokerStars, in play money. I wish he could do that with some real money for once, but he's to cheap to try it. I seldomly use real money, takes away the fun.

•
1 Dec 06
takes away the fun man you need to try real money as it adds to the fun :p its a whole different game if the real cash is down let me tell ya your heart races i had a hand i knew i was gonna win i had three kings and 2 queens and everyone though i was bluffing so they all kept calling my raises turned out i won $50 on that hand and that was on a $0.10 game in which everyone bets the Big blind at 0.10 :p

• United States
1 Dec 06
Nice... that makes for a pretty good hand. I just like watching how people play and making them try to predict me and throwing their predictions on the window. I'm too poor right now to play with real money! lol...

•
1 Dec 06
yeh i used to play on party poker for real money lol it was a blast i actually got free real money to play with doing a deal with some companie so i used that i got about $50 of real money to play with yeh i could take it out whenever i wanted and put it in my bank but i just played with it i fond it was best to keep jumping round the tables a bit oh yeh i played texas hold em by the way:p so if you jumped around the tables i found that most on the new table wouldnt know how you bet therefore werent sure if you were bluffing or not and i used to win quite regularly. I had a good $150 in my account and was just thinking my lucky streak had run out and i was gonna deposit into my bank but i forgot to and then my moher came round to babysit for us so i went out and left her with the kids for the night. The next morning i remebered to take the money out so when i got into my account i though i had been hacked and someone had stolen most of my cash as i had $14 left in my account so i started emailing the poker place to find out it had been played with the night befre so when i put 2 and 2 tgether i found out my MOTHER had lost all my money in a big game lol MY mum played and gambled all my cash away lol hows that for a kick in the a$$:p Anyway hope you have a nice day and youlike it here on Mylot:p

• United States
1 Dec 06
That really sucks. Eh, the money was free to start with though. Can't complain too much. Just consider that a babysitting fee I guess. My father always uses up my money on my account, but it's only play money so I could care less. But, jumping around from table to table kinda' takes the fun out of it! It's fun to learn how people play and make them think you do one thing and do another. LOL. Anyhow, I do like it on myLot, except for all of those darn yes/no response... GRR..

•
1 Dec 06
yeh thanks for that youve made my day :) best responce im blushing lol well you just kinda stay away from them as that kind of disscusions are getting deleted now so thats good :) yeh i suppose it could of been a fee of somesort for my mother lol she never did pay me back lol but like you said the money was free to start with so i didnt mind that much infact if i remeber right i think thats where my mom got mixed up as she though it was play money because i said i got it for nothing :p if you want to try for real money i could try and find the link to see if they still do the deal if you like :p ive added you to my friends list so if you accept i will send it in a message to ya :)

• United States
1 Dec 06
Thanks a lot. I'll accept you when I figure out how to do that! :D

• United States
17 Dec 06
I play quite a bit of online poker. I started a site over a year ago that lists several sites that offer freerolls for cash prizes (www.holdemrocks.com). I've won as much as $15 in freerolls and as much as $1,400 in real money tournaments. You should always start out in freerolls but keep in mind that people play much differently in freerolls then how they do in real money games. As you develop your skills, you'll realize the difference and can adjust. It has taken me three years to work my way up the ladder but I now consistently finish in the top 25% of tournaments.

• United States
21 Dec 06
I really do hate how people play in freeroll. I'd much rather play with some friends for a few bucks, but they always too busy for that nowadays.

• United States
9 Dec 06
Hi there, I play on Poker Stars too! I play Hold 'Em, I don't really know how to play any other games. Do you like Poker Stars? Would you recommend any other sites? Do you make any money at it? I play the micro tables.

• United States
21 Dec 06
I don't really know any other good poker sites. I've tried a few others but they don't have the user activity like PokerStars. I don't ever play with real money, but I like to play the big tables with play money. I just spent a few hours on there and built myself up to 50,000, then 100,000... you get the idea.

• United States
7 Dec 06
i do sometimes~.. can be fun.. i play super lowstakes.. but real money.. i like dollar games once in while.. and alot of site have freerolls that cost nothing to enter but you have the ability to earn a little.. usually like 10-20 $ if you do well.. i think its fun.. long as you dont get carried away!

• United States
7 Dec 06
I'd love to play with real money, but 1.) it's illegal in the US and 2.) I don't make nearly enough money. If you do good in a bunch of those freeroll tournaments you can win a few bucks, but not nearly worth your time.

• Philippines
14 Dec 06
have you tried this site? www.triplejack.com. it requires no software downloads and it's for free. of course it's not real gambling, you use play money. when it comes to real poker, i dont play online. im not comfortable with it. i like true blue velvet poker tables, and i live for the thrill of keeping a straight face while playing a hard bluff. hahaha.

• United States
14 Dec 06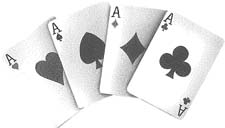 I love to play poker and had an online account at Poker Room. I did fairly well, playing the no limit cash games. Started with $10 and got up to about $120 before they closed down to U.S. players and I cashed out. Hoping they open back up to the U.S. soon. I've played play money on Poker Stars, Party Poker, Absolute Poker, and Full Tilt. Going to check out Ultimate Bet next - http://www.ultimatebet.net/ Yes I'm addicted, lol.


• India
21 Dec 06
I don't know really about this.. What is poker and how to play it? please tell me ok...