Fortune Cookies.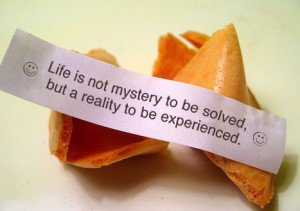 New Delhi, India
May 24, 2016 7:27am CST
Fortune cookies are the cookies that are made of floor,sugar,vanilla and sesame seed oil having a piece of paper,a fortune which has a message that can be a Chinese phrase,a saying or some numbers. The cookies are served as a desert in Chinese restaurant.They fascinate me.I Haven't got the chance to eat them yet but I would love to and see the message it has for me.

Have you ever eaten them?
8 responses

• Guangzhou, China
24 May 16
It is very interesting that the fortune cookies are so popular overseas. As in China I haven't seen any restaurants which provide these yet

I don't know how these cookies taste like. I guess they are delicious but I think customers pay more attention to the message they get


• Philippines
24 May 16
Which means you will get lucky when you eat that cookies

• Philippines
24 May 16
Not tried before but the message I am after of.I like it.


• Delhi, India
25 May 16
yeah i also will like to have them i also never found them in my country are they available in India?



• Philippines
24 May 16
Which one? The message or the cookie? LOL!

• Philippines
25 May 16
@shubhu3
I'd prefer the cookie over the message hahaha!

• New Delhi, India
25 May 16
@sunrisefan
Hehehe that's nice. :) Have you eaten any of them?




• Philippines
26 Jun 16
Yes. Fortune cookies are served in a Chinese restaurant.