How to play and have more fun.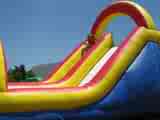 United States
November 24, 2006 11:24pm CST
Some adults have a lot of trouble enjoying themselves. If you were asked to give them some advice about how to play and have more fun, what would you say?
5 responses

• United States
26 Nov 06
What is your favorite thing is the first thing I would ask them.


• Pakistan
2 Dec 06
Actually, every one has different choice and likeness. I think that we should give special importance to such babies and should show to them that they r very important for us. If u say to ur dull baby that i want to go outside but only will go when u'll go with me. First time, he'll n't accept urs offer. He/she'll repeat this thing twice or thrice more but then atleast, a day'll come when he/she'll go with u. In this way, we can develop changes in such babies. Its was my thinking.

• Pakistan
2 Dec 06

Actually, every one has different choice and likeness. I think that we should give special importance to such babies and should show to them that they r very important for us. If u say to ur dull baby that i want to go outside but only will go when u'll go with me. First time, he'll n't accept urs offer. He/she'll repeat this thing twice or thrice more but then atleast, a day'll come when he/she'll go with u. In this way, we can develop changes in such babies. Its was my thinking