They're Coming In ; They're Going Out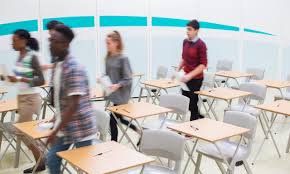 Philippines
June 16, 2016 1:56am CST
I find it funny sometimes Some students transfer here ; Some students transfer there. It seems they're choosy, Or really don't know where to stay. I keep asking them why, But nothing they say, Is it the professor? Is it the facilities? Is it the grades? Or the tuition you pay? I can't force them to tell Don't know what reason is real. But the good thing is; They're going out. But more are coming in.
6 responses



• Philippines
16 Jun 16
My niece transferred schools a lot of times. One of the reason is because we moved. We moved twice to two different cities. The other reasons: -high priority on "king and queen" with money envelopes as their school activity, regardless if it's nutrition month, or buwan ng wika, or science month... There really wasn't any big focus on academics. -teachers only interested in gossiping, browsing brochures... My niece had her stuff stolen all the time, even her packed lunch, so she went hungry several times. And when she complained to the teacher, the teacher didn't even do anything. -a school selects only a handful of students to train for inter-school competition. These students were being coached during class hours while the other students were left alone and possibly given seat work. It's not fair for the other students who weren't math or science geeks. They deserve to be taught too. And the school was actually proud because they ranked well in competition. Little did everyone know that 95% of students there were dumb as rocks. My niece went to public schools except in Grade 6. She said it's better there (the private school) since there are stricter rules like no bullying, no stealing, and the teachers are more willing to help with studies. The teachers also heed any complaints, from students and parents alike.

• Philippines
17 Jun 16
If I am the mother of your niece, I will also advice her to transfer if the teachers are not teaching well. Students went to school because they want to learn. But if the teachers only gossip and collects money most of the time, then it is not really good to stay.

• Philippines
16 Jun 16
all you can hope is that they strive to continue their studies, wherever it may be, even if it means stopping and starting again, or working while studying, until they finally graduate.


• Philippines
16 Jun 16
All the reasons above are valid reasons for them to get out. Good thing more students coming in. Nice poem.