How to cook celery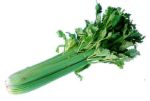 5 responses

• United States
5 Dec 06

Celery is great to add to soups, however I also chop it up and I love the leaves too...to add to the crockpot with any potatoes and carrots added. It will cook to a soft consistency and lose the stringiness it is noted for. Hope this helps.

•
5 Dec 06
Thanks, i do like the flavour it leaves in thes soup but hate the taste difrectly fomr the selery so your idea really worked for me, thanks for your answer.

• United States
5 Dec 06

so glad to be of service.

• United States
25 Nov 06
I just made cornbread dressing for Thanksgiving that has a lot of chopped celery in it. You can also put celery into vegetable soup. One trick I learned for soup is that if you like the flavor the celery adds but you don't like to actually eat it, you can make your soup with big pieces of celery in it and then remove them before serving.

•
29 Nov 06
Thanks for the tipp about celery and soup, i think that's the thing, i love the flavour but hate eating it!!!! Thanks for replying

• United States
5 Dec 06
I make a tea out of it. I boil it leaves and all for 5-10 minutes and then strain it into a cup and drink it hot. It can lower your blood pressure if you eat it daily. It is considered a negative calorie food because the act of eating it burns up more calories than it has. It is high in calcium and helps to clear toxins from your kidneys.

•
5 Dec 06
Wow, that's something I didn't know!!! tahnks for the information, it is really helpful right now because I am trying to lose some weight in january, you know aftera ll the festivities!!! I can't imagine it tastes that greta though, it is just one of those things that isn't aso great tasting on it's own. But thanks, will give it a try soon. Thank you for replying, cheers

• Defiance, Ohio
5 Dec 06
There is a soup called 'Campbells cream of celery'. It is very yummy over hamburger and rice. Or just over plain hamburger eaten on a bun. Celery is great in soup. Espically vegetables.

•
5 Dec 06
thanks for your answer, i will try and finsd this recipe for the soup you have suggested, or unless you have it then please post it on the site for me, thanks for the idea again, cheers

•
5 Dec 06
thanks for answering but not really helpful, you will earn more buy giving a more substantial answer, thanks anyway