How Do You Describe A Good Friend?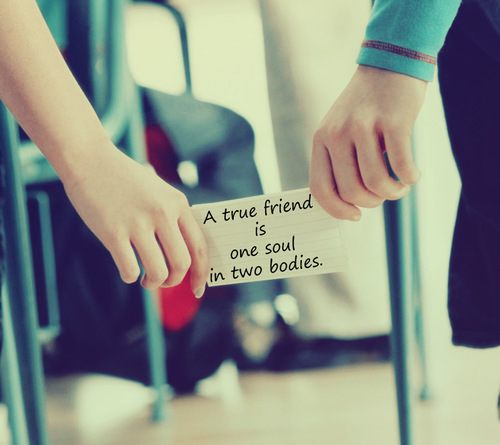 Waverly, Tennessee
September 27, 2016 5:34pm CST
I enjoy the company of someone that I know has a good heart and won't do you wrong! That actually cares and understands your feelings. Now days it's hard to find someone you can trust, and I think that's why I don't have friend's. Whats your description of a good friend?
10 responses




• Dundee, Scotland
28 Sep 16
My description of a good friend would be much the same as your description of a good friend. I think it is quite hard to find such a friend these days. I thought I had such a friend but two weeks ago he proved that that was not the case. 5 years friendship down the drain. Money was involved. Need I say more?


• Roseville, California
28 Sep 16
The same thing to be able to trust them always and them having good intentions and having your back, and will be there during the bad times when you need them most. Personally I would cherish having that above anything else, but most want something other than that.

• Waverly, Tennessee
28 Sep 16
Right I've always been so kind that literally people would take advantage of how I handled anything. So for me it's hard to find someone who I can trust. Although my problem is willing to help anyone even if I can't help myself and that's a problem not worth having.

• Hyderabad, India
28 Sep 16
First ,you be good and be the first to extend friendship. Definitely, there will be reciprocation. We can not sit at home ,and expect others to be good.

• Bangalore, India
27 Sep 16
Someone who will share chocolates with me and later give their share to me too without having me beating them for it.


• Philippines
27 Sep 16
Well I have a lot of friends but I don't know if they are true to me because many of them I know they don't like me but it doesn't matter for as long as that I don't hear anything from them I won't mind.as a saying there's a lot of back fighters and I know them,but still Im doing my best


• Ireland
27 Sep 16
What you have described and someone who gets me

• Bangalore, India
28 Sep 16
Tell me about it... It' not that i don't have friends....but they are all married and very busy...i get a few days a year with them now.... But i love them still, at this age, we don't need to be in constant contact with someone for them to be a good friend. Even someone who cares enough to check up on me i consider a good friend.

• Waverly, Tennessee
28 Sep 16
Yes I don't blame you. True friends do check ups, but anymore if it's not them they aren't concerned. Which seems unfair. I had this one friend I'd visit like once a week I guess she got tired of me and just never got back with me. I'm not annoying she just wanted to be alone with a lot of depression going on. I still think of her but when I reach out she makes excuses so I don't reach no more.

• New Zealand
28 Sep 16
Loving, Caring and trustworthy