Do you like Spongebob Squarepants?

United States
11 responses

•
25 Nov 06
Yeh i love sponge bob squre pants as it is very amusing i also think although it was designed for kids the writers of it definatly had adults in their minds too as some of the stuff they have in that cartoons i cant see kids getting lol. oh yeh i have also seen spongebong hempants and that was hillarious but definatly NOT for kids lol :p


• United States
25 Nov 06
Yes, because he is funny.

• Malaysia
22 Dec 06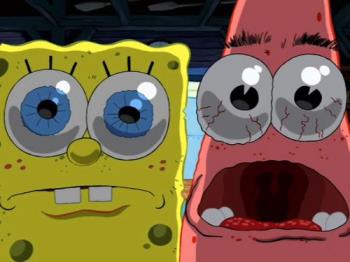 The answer is..is..is......YES!!!! I....love it!! because everyone know that spongebob first name is well..spongebob but not many know that krabs middle name is Eugene and sandy is Sandra while squidward middle name is Johannsen!! hahahah!!! and thats why i like the story!! and by the way plankton full name is Sheldon J. Plankton! hahahahahahahahahahahahahahahahahahahahahha hahahahahahahahahahahahahahahaha!!!!!

• United States
2 Dec 06
i love spongebob. I watch it all day long!!!!!!!!!!!!

• United States
25 Nov 06
I do. I think the show is funny and original. I let my kids watch it. I was not crazy about the movie, but the show is good.

• Canada
25 Nov 06
Spongebob rocks my world. I have always though he was a cool dude. I adore Patrick too. I have heard all the arguments that this cartoon promotes homosexualtiy, but I don't think it does. I think there are plenty of men who have really good buddies in their lives without being gay. Why do the critics have to attack absolutely everything? Nothing is safe from their wrath and skewed opinions anymore. But maybe that is another discussion.

• Romania
25 Nov 06
i don't like spongebob squarepants. i only watched them once but i think they are really stupid, idiot. i think they are made only for children not like tom and jerry. i still like to watch that :)