October is National Pizza Month – Here Are Some Pizza Statistics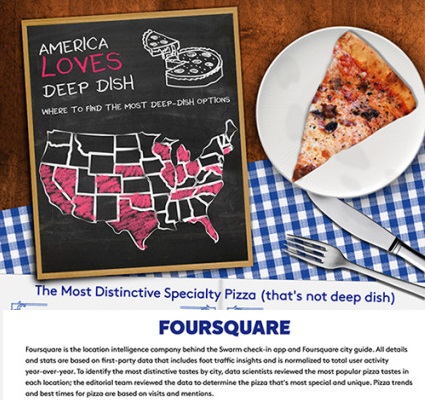 Austin, Texas
October 13, 2016 5:33pm CST
Favorite specialty pizza? Hmmm … ??? I live in Austin, Texas and evidently the favorite "specialty pizza" is the
Margherita Pizza
. That's news to me! Had to go look that up and see what it was about! In other Texas cities, the specialty faves are: Greek pizza (Dallas)


; Pepperoni pizza (El Paso); White pizza (Houston); and Pizza Crust (San Antonio) (???).


Sorry but the stats on the blog's infographic only cover certain cities in the USA. But if pizza or a specialty pizza is a favorite local food wherever you live, please share what is the most popular pizza or pizza topping in your part of town. Also, if you make your own homemade pizza and your family and friends love it, share that too! Me? My pizza should be generously loaded with ground beef, ground sausage, Canadian bacon, bacon, shredded chicken, mushrooms, black olives, onions, peppers, a variety of melted cheeses and …
I'm open to suggestions.



The Best Pizza in 39 Cities We here at Foursquare know that every pie is unique, just like a snowflake. So whether you like deep dish, Detroit style, or the classic Neapolitan, we know your perfect...
1 response

• Los Angeles, California
14 Oct 16
I like pizza but rarely have it. Not too healthy!

• Austin, Texas
14 Oct 16
I don't have it as often as I used when my kids were much younger. It was a typical Friday night treat!