who paid for your wedding?


Philippines
6 responses


• Philippines
26 Nov 06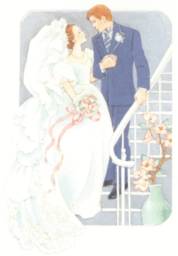 in our country, the groom and his parents, traditionally pays for everything. but nowadays, specially when the couple both have stable jobs already, they pay for their own wedding. oh, the groom's parents still pitch in but the kids are more aware that this is their responsibiliy already. for my wedding, my husband and i shared the bill equally. his parents however, answered for the reception but everything else, we paid ourselves. somehow, i feel that paying for our own wedding is more satisfying and gives you a sense of accomplishmnet afterwards.

• United States
26 Nov 06
I paid for my own weddings. I've been married twice. They weren't big lavish affairs, but were simple and just a few family and friends. I like it better that way.

• Philippines
26 Nov 06
me, too. i like i if i paid my own ay. it's more satisfying.


• Philippines
26 Nov 06
it's never too late you know. your time will come.

• United States
26 Nov 06
My parents which was so great of them. They lived on a huge lake front property and they placed a dance floor in the back and tented it. The pool area was where the bar and buffet was and we had Christmas lights everywhere. It was really beautiful.

• Philippines
26 Nov 06
lucky you to have parents who own a property like that which for me is just perfect for a wedding. could you share picures of your wedding?

• United States
26 Nov 06