Gratitude Challenge Day #787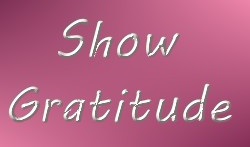 Baltimore, Maryland
December 6, 2016 1:42am CST
Hey there, everyone. I just finished up everything, so I'm gonna get down to the Gratitude Challenge and then call it a night. This is actually the Gratitude Challenge for Monday, Dec. 5th… 1. I had a good weekend of hanging with the family, doing just a little Christmas shopping and watching the WWE PPV. 2. WWE Raw was good tonight in my opinion. 3. I'm finished with my work and hit my goal. 4. Chatting with my friends online throughout the day. 5. I had an alright day, and now it's bedtime. -Yawn- Alrighty, I'm gonna get ready to hit the hay. I know I'm behind on my notifications around here, so please bear with me for a bit. You all have a good night (or morning) and take care. Photo Credit: I made this graphic using PhotoImpact 6.
3 responses

• Aberdeen, North Carolina
25 Jan 17
Glade your weekend went well and got to enjoy famy time. Isn't it the best feeling?

• Baltimore, Maryland
31 Jan 17
@Brittnyrose
Nah, I come from a big family, but I wouldn't have it any other way. I need my space sometimes, but that doesn't mean I love 'em any less. :)

• Aberdeen, North Carolina
27 Jan 17


• Philippines
6 Dec 16
it was raining before i woke up and that made me happy because the weather is good. i like it cold.

not much interaction for me around here in my apartment. i haven't seen my nephew when i woke up cause he was sleeping already. anyway, have a good night sleep Tammy.


• Philippines
25 Jan 17
@enlightenedpsych2
oh, a friend of mine has sinusitis. that's a tough one to deal with indeed.