"Only Thing We Have to Fear Is Fear Itself". True or False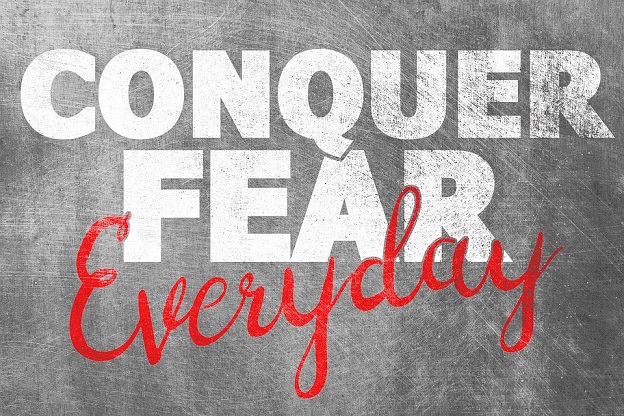 Austin, Texas
December 12, 2016 12:25pm CST
"Only Thing We Have to Fear Is Fear Itself".
(Quote source: Frankling Delanor Roosevelt's First Inaugural Address.) Combining this quote with a link share. It's not my blog post but I have something to say about it. Could have left a comment at the post but sometimes I try to leave comments at blogs and they evaporate into thin air. Besides … I'd rather talk about it with my friends here at myLot.


So here are my thoughts. ~
Anybody
= Muslims who are terrorists and proudly take credit for their acts of terror and also … anybody else out there who is trying to scare you, intimidate you and force you to submit to
their will
. I said their "will", not their "authority". It's about domination. ~ Common sense. You should fear
anybody
who is trying to inflict injury, harm or kill you.
But don't let the fear control you and don't allow it to become an excuse, reason or justification to HATE!
~ Our Creator put a natural instinct in us to sense when we are in danger and gave us enough intelligence to figure out how to protect ourselves. Apply your instinct and intelligence on a case-by-case basis. For those in "official positions" of responsibility who makes decisions that impact the world we all live in, don't abuse the power. The "job" may not be easy but you need to do it RIGHT!
It's your job!
~ We didn't start the "fire" but we need to learn how to live in a world where "fires" are constantly raging everywhere! (Additional REF Reading: www.latimes.com/nation/la-na-immigrant-ban-history-20170130-story.html) MD

Are we wise to fear Muslims? If so why? Are we bigoted by acknowledging our fears and opinions not to allow more Muslims into the USA?
3 responses

• Austin, Texas
12 Dec 16
Unknown?? Isn't there enough that we know about to frighten us?

•
12 Dec 16
@cmoneyspinner
nope. The thing we know we area feared of. We know how deal with them.but the unknown is really fearful.

• Austin, Texas
13 Dec 16
@sayitnow
- If you say so. But I disagree. Whether you have knowledge of a danger / threat OR you are totally clueless about it … how I see it there are only two outcomes: you survive or you die. You don't stay "suspended" in a state of "unknowing". It ends somewhere!


• China
13 Dec 16
In fact it makes no difference to the situation for you to fear them as you are attacked by terrorists and others ,so confronting it is preferable.


• China
14 Dec 16
@cmoneyspinner
They are just a handful of splittists .As it was, they violate their human rights while they carry out attacks on other people on the pretext of their human rights are being violated.

• Austin, Texas
13 Dec 16
Yes. One may say you risk your life confronting them. But I say you have no life if you don't. What are you going to do? You have a right to live! It's your human right! I have heard that in China there is a group called the Wegers ( or Uighurs) who are carrying out attacks. Although their justification is that their human rights are being violated. Don't know the whole story, but do know planned or random violent attacks on people is not the solution to the "problem". When you do things like that, nobody wants to hear your story because now they're angry at you, afraid of you, or both! Am I right?

• Austin, Texas
15 Dec 16
@changjiangzhibin89
- WHOA! Talk about a vicious circle. What a waste of life to trap yourself in a cycle like that. Anyway I don't want to depress you by talking more about it. You and I have both lived long enough to know there are lot of problems in this world that will likely never be solved and the world won't end until it's The End.

• United States
12 Dec 16
Our Lord told us 365 times do not fear....Their is one for everyday....He only told us one thing to fear... When fear is in somebody it causes us not to think rationally, it causes people to act in the wrong way. and can cause harm to others...Fear takes away our common sense.... For instance if a building is on fire....Fear makes people panic, and run to try to get out...They have no regard for anyone else in their path..If people would put their fear aside, stay calm, and exit in a fast but mannerly fashion more lives would be saved..... God told us not to fear anyone that can harm us.....Fear always brings about the wrong reactions...because it takes away common sense....What i do not understand with the amount of confessed Christians around the world why do they not understand that they have the power of Jesus inside them.Why are they not taught how to use it...Why is their so much fear.... If believers are in a building where their is a shooter trying to kill them....why do they fear, and run from it...all it does is cause confusion. and give the shooter power over them...If they would think and stand and call on the name of Jesus and command the gunman to stop in Jesus name....they would be delivered.... Their is always going to be trouble as long as Evil is in the world...When you have fear you are telling God that you do not trust him....He will not always deliver you from trouble, but if you stand firm in your belief and trust he will deliver you in the trouble... Look at David and Goliath, Look at the three that were put into the furnace because they would not give up their belief God did not deliver them from the fire, but he delivered them in the fire....People today do not have that kind of Faith and trust in God. We do not keep Muslims out of our country because of Fear, We keep them out and turn our backs on the Evil that is inside of them....We stand for the word of God. God never tells us to tolerate anything that is evil...

• Austin, Texas
12 Dec 16
This part of your response is blurry to me. I don't see tolerating evil versus defending yourself from danger as the same or equal response or reaction to the same problem? Also ... who said we were keeping Muslims out? Who is "we"? Keeping them out of where? Did I miss a news report? (???)