What age should a child be Babtized?

United States
November 26, 2006 11:55pm CST
Most religions a child is born into is what they believe. When should a child be babtized? What does Babtism mean to you? Are you babtized?
5 responses

• United States
4 Dec 06
I am Catholic and it is usally within 6 weeks

• United States
10 Dec 06
My family is Catholic I have tried to be babtized catholic but because of a previous marriage they will not allow it. I have tried for years and it has not worked yet. My children were babtized Catholics and we have followed the religion but as they have grown older have not gone to mass. They are chosing to do as they want.

• United States
15 Dec 06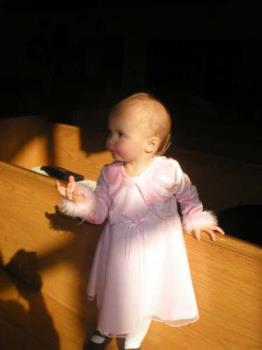 In my Protestant denomination we baptize babies as a symbol of God's covenant of grace, and as a symbol of parents' and the church's obligation to raise the child in faith. Usually baptisms are within the first six months. We waited longer with our daughter (16 months) because my husband and I were not members of the same church until then (long story). We were both baptized as infants. When we reach the age of understanding and accepting faith as our own, we make Profession of Faith, where we publically proclaim our faith and are accepted as full members of the church.

• United States
16 Dec 06
I understand many different views from the Church's aspect on this issue. I am from a family with several different denominations. I think a child should be babtized early but have come to find it harder when they get married or if they decide they do not accept the practices of the denomination they were babtized in. Do you find anyone with those same issues?

• United States
14 Dec 06
I believe when they are old enough to understand right and wrong. Yes I am.

• United States
11 Dec 06
the Lord toled Joseph Smith,Jun. in 1830 that child under 8 year are sen free so thy have no neat of babtizmen for sin that is what you are babtized for to be wash your sin away

• United States
16 Dec 06
Am I correct in understanding that you say a child is born sin free? I thought it was the other way around. We are born into sin and must accept God as our saviour and sin be washed away. I thought that is why so many have their child babtized at birth or as early as possible.