1905 Newspaper article about an "Educated Horse" But is it really?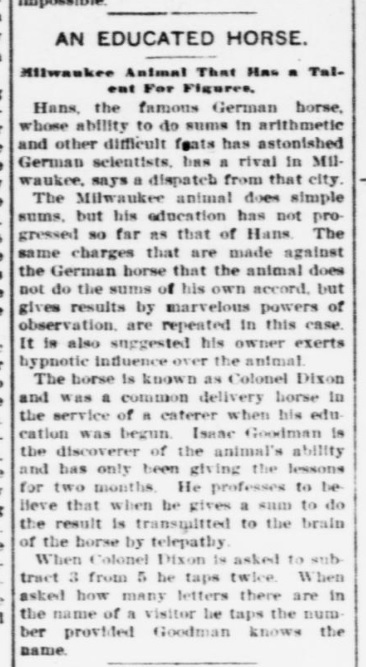 United States
1 response

• Philippines
30 Aug 17
Hans was indeed a clever horse. But there is so much more to his ability and it's not telepathy, but rather, as the article says - through observation. (hehe) Many people were mesmerized about thinking that Hans was able to do arithmetic by reading minds or telepathy, but it was debunked when experts experimented on his abilities. Anyway, such fact that Hans - a horse, able to do simple arithmetic is a sight to behold! Thank you for sharing.

• United States
31 Aug 17
I thought the idea of telepathy with the horse was funny.

• Philippines
31 Aug 17
@horsesrule
Haha, it would be awesome indeed if horses actually are telepathic in nature so that's why they seem to get along well with humans.