Do You Think War Between North Korea And US Is Inevitable ?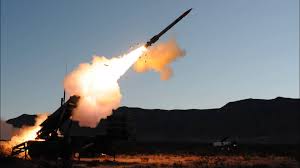 India
5 responses

• Philippines
4 Sep 17
It won't happen so long as China keeps or is able to leash Nokor, whether we like it or not China is a big factor and so does the other players like Sokor and Japan.

• United States
4 Sep 17
Hello Ganesh..I think there may be some strong possibility ...it is a worry my friend.

• United States
4 Sep 17
@Ganesh44


Love to you too.

• India
6 Sep 17
@TiarasOceanView
heartiest thanks dear




• Cebu, Philippines
28 Nov 17
Hey what's up
@Ganesh44
! I'm back on myLot!!! Wooohoooo!!!! If ya think about it, it could happen. But it's like Bambi against Godzilla. The US is far superior in military power. But then again, a war with nukes will doom us all if not ruin our planet, as we all feared during the cold war. Let's hope the powers that be won't let it happen.


•
6 Nov 17
I'm afraid N.Korea is asking for it. I can't phantom any other alternative.