Gratitude Challenge Day #916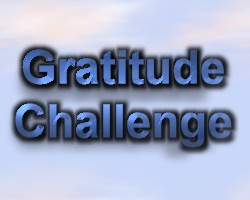 Baltimore, Maryland
September 12, 2017 2:18am CST
Why hello, I'm back again for another post lol. It's after midnight, so this is the Gratitude Challenge for Monday, August 11th… 1. I've been working with one of my favorite clients, and I even have an order to work on tomorrow before I leave for the movies. 2. Watching WWE Raw tonight. 3. I realized recently that my back doesn't bother me nearly as much as it used to. 4. I'm going to see IT tomorrow night with my family and friends. 5. It's bedtime! Yep, I'm going to bed. You all have a good night/morning and take care. Photo Credit: I made this graphic using PhotoImpact 6.
4 responses

• United States
12 Sep 17
I missed raw from being out.. but heard about miz if its true and not storyline.. i want to see IT but also dont lol

• Baltimore, Maryland
14 Sep 17
Judging by his Instagram post, I think it is true, but that's just me. :) I liked it. :) I liked the mini series too, so that made me wanna see it. The new one had it's creepy moments tho.... I may or may not have dropped the F-bomb at one point lol.

• United States
15 Sep 17
@tammys85
hear so many mixed reviews on it.. ugh

• Baltimore, Maryland
15 Sep 17
@Courtlynn
I don't always go by reviews; we don't all share the same opinion.


• Philippines
13 Sep 17
How did you like 'IT'? Heard the promo of The Miz cut closer to the truth than what WWE had wanted. Fans absolutely loved it!

• Philippines
15 Sep 17
@tammys85
will watch the movie this weekend. The Miz always cut good promos. He is a very underrated heel.

• Baltimore, Maryland
16 Sep 17
@allen0187
Let me know how you like it! I do agree!


• Green Bay, Wisconsin
15 Sep 17
I hope you enjoyed the movie. I only just heard about this one. I'm very happy your back is not longer bothering you like it did.

• Green Bay, Wisconsin
16 Sep 17