The Simpsons Movie

United States
November 27, 2006 6:21pm CST
Who is planning to go see The Simpsons movies, I used to watch The Simpsons years ago but gradually grew bored with it and suprised its still running even more suprised that there is a movie coming out. See the Trailers below. http://www.apple.com/trailers/fox/thesimpsonsmovie/
6 responses

• India
28 Nov 06
i really like the simpson, even after watchin it all these years, it always gets a laugh outta me, so i guess i will b watchin it

• India
28 Nov 06
i really like the simpson, even after watchin it all these years, it always gets a laugh outta me, so i guess i will b watchin it

• Canada
28 Nov 06
I probably will see it. I'm sure it will do very well. Some of the new episodes are sort of lame. They throw some really weird things in there. For some reason I don't like how bright and realistic it looks. I liked they way it looked before (not the really early stuff) I think the way it looks now takes away from the story,it looks over-drawn. Are you going to see the movie?

• India
19 Dec 06
thanks for the trailersss

• United States
30 Nov 06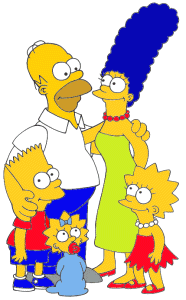 I still Love watching the Simpsons. Just wish that they would actually advance their ages maybe just a little to where maybe Maggie can officially talk now. This is the first I have heard of a Movie though coming out.

• United States
29 Nov 06
Yea im deff gonna see it..I havent been able to see it this past year because where we moved we cant get any tc just 2 channels by bunny years lol lol lol..yea im wayyyyyyyyyyyyyy in the high mountains lol.but i cant wait..when is it coming out? have a good one!