''Beautiful places here in Philippines''

January 5, 2019 2:48am CST
I realize before I dream to go other country is appreciate first the beauty of my own country. I'm a Pilipino and my country is Philippines, there's a lot of beautiful places here like Palawan. There's a lot of beaches white sand and islands and sea foods ofcourse. I'm a hairstylist here for 1 year contract originally from manila, manila is very populated city in the Philippines. Many buildings stablishment and people there, that's why many opportunities and business in manila. Actually I have a week lungs and my body can't live in that place so I accept the offer of my company to work here in palawan and I see the beauty of this place. Very soon I will travel in many beautiful beaches and mountains here.
8 responses


•
5 Jan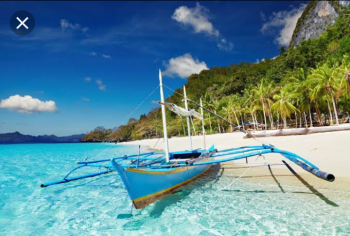 @iridion9
here other pics and many more beaches and resort.

•
5 Jan
Welcome to myLot. we will enjoy to hear more about your beautiful country.

•
5 Jan
@hiraahmed
Palawan is one of the places here in Philippines, we have a hundred islands here and many more beautiful places.

• Philippines
5 Jan
Very true, it's more fun here in philippines

•
5 Jan
@resukill22
yeah I agree it's more fun here in Philippines...

• Thailand
5 Jan
i am glad you find a job there. yes palawan is nice, if i will be offered job there too I will also go and work there.

•
5 Jan
@Marvic123456
yes definitely palawan is a very nice place here in the Philippines. Although at first I regret to work here but I'm very thankful now cause no hustle no traffic and clean air.

• Thailand
7 Jan
@Carlos333
if i am going to be offered a job there I will also take it.

• United Kingdom
7 Jan
I am very keen on travelling and I visited Cebu Island plus Bohol island in February 2018. I love the Philippines and have heard that Palawan Island is pristine and beautiful with its tropical landscapes. Manila is a busy city and Palawan Island is paradise. You are so lucky to work and live there.

•
7 Jan
@maximax8
yes Palawan is like a paradise actually many foreign from other countries travel here to see the beauty of Palawan, I'm in love with the beaches here although I can't swim deeply the ocean and never been go to other beaches but I have a plan before my contract ends here.I suggest to you to travel here to experience the beauty of palawan it's wort it.


•
5 Jan
@Icydoll
thank you... I'm glad to hear that many Pilipino there. Pilipinos are kind and friendly...

• Waterbury, Connecticut
5 Jan
Ive seen photos on the internet, beautiful! I love Phillipinos!