The Other President in 1861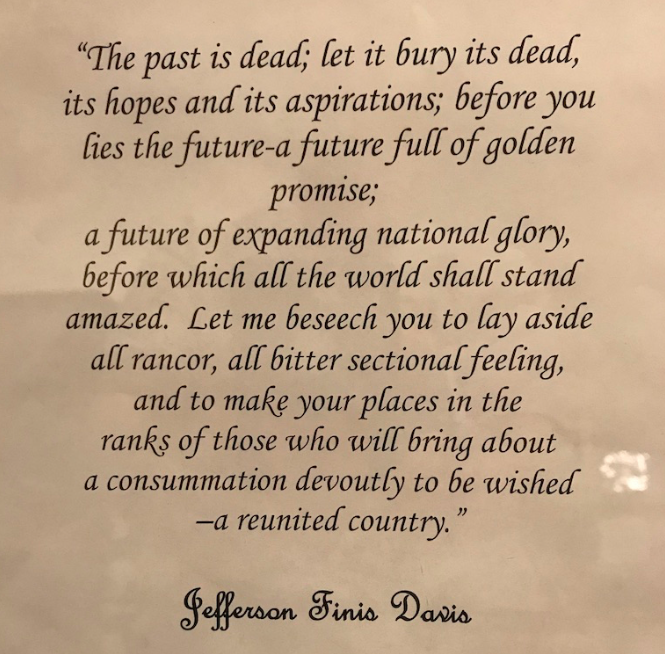 United States
July 2, 2019 10:35pm CST
There was one time when we had two presidents instead of one: during the Civil War. The Union had a president, Abraham Lincoln; and the Confederacy had a president, Jefferson Davis. Here's a kick in the head: the two presidents on opposing sides of America's terrible homegrown conflict were both Kentuckians. They were born about 100 miles from each other. On my recent road trip I made a stop at Jefferson Davis' birthplace, which is located in Fairview, Kentucky. The monument erected in honor of the only president of the Confederacy looks very similar to the Washington Monument, just smaller in height. Before he became the leader of the rebellion, Davis was a very distinguished American. He served as a soldier in the Mexican-American War, Congressman, Secretary of War, and two terms as a U.S. senator from Mississippi. When Mississippi seceded from the Union in 1861 Davis resigned as a senator, returned to Mississippi, and was elected the Confederate States of America's first (and only) president. After the war Davis was imprisoned for two years and charged with treason. President Andrew Johnson granted a pardon to the officials in the south on Christmas day 1868, and charges of treason were dropped against Davis. His story is told in a small museum on the grounds of the site. Davis' actual birthplace is the current home of a Methodist church, which received the property as a gift from Davis. The Jefferson Davis Monument State Historic Park is on the Todd/Christian County line in western Kentucky. The park is free; however, there is admission for the museum and/or elevator ride to the top of the monument. As you can see from the photo of the quote from Davis above, Davis didn't want the rift in the country and worked diligently to heal wounds after the war. It is fitting that he have a memorial in his home state.
8 responses

• Los Angeles, California
3 Jul 19
I saw the Jefferson Davis statue in the state capitol rotunda in Frankfort and was amazed it hadn't been removed considering today's climate when a Betsy Ross flag is now considered unacceptable...

• United States
3 Jul 19
They've tried to get it removed, believe me.

• Los Angeles, California
3 Jul 19
@FourWalls
Not surprising. I have been to his homes in Biloxi and Montgomery. They can't touch Beauvoir in Biloxi.

• Los Angeles, California
3 Jul 19


• Daytona Beach, Florida
3 Jul 19
That is interesting and must have also been rather confusing. Thank you for sharing this.

• United States
3 Jul 19
Well, when the southern states seceded people "knew" which side they were on. The interesting thing is Kentucky initially wanted to be neutral (as indicated by the fact that the state supported the Union but was also a slave-owning state). Going to the battlefields you'll see a number of regiments fighting for the Union from southern states, however. It was literally a house divided against itself then.

• Mechanicsburg, Pennsylvania
12 Nov 19
I've studied the Civil War quite a bit, but never came across this quote from Davis. Thanks for posting it.

• United States
4 Jul 19
It is a great testament to a really tough time in american history.

• Belews Creek, North Carolina
3 Jul 19
The fact that they were both born in the same state is a good reminder that a lot of families split over their political differences. It really was brother fighting brother in many instances.

• Philippines
3 Jul 19
This is something interesting that many do not know there was a a time in the US history that the country was divided into two governments in conflict. It was I think a part of the growing years of your country to become what you are today. I think it is one of the pains that you have to experience to grow as a strong one nation.