Conflicted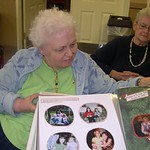 Sturgis, Michigan
July 9, 2019 6:31pm CST
My only living grandmother passed away today. My feelings are conflicted. We were never close. She never reached out to even tell me congratulations after having my sons. I only saw her a half dozen times since my mom and dad moved to Indiana from Illinois. Now she's gone. She wanted my dad's insurance money when he passed I don't know why she'd want it. Part of me wants to cry, because she's family. Part of me is hallow, I hardly knew her. Then there's part of me that's confused, why didn't anyone tell me that she passed. This is the only picture I could find of her if you look in the photo album. There's a photo of me, there's also photos of my cousins, who are not related to her at all, they're the cousins on my moms side. The photo was taken from Flickr. From living facility that she lived at. Maybe all of this will make sense eventually.
4 responses

• Colombia
10 Jul 19
It happens. That's fine if your feelings are conflicted. You'd never been close with her when she's still alive. May she rest in peace.

• United States
9 Jul 19
Sorry for your loss. I have family that i know of but never met. I don't blame you for having mixed feelings.

• United States
10 Jul 19


• Philippines
10 Jul 19
it's strange that she wants your dad's insurance money. maybe she helped pay for it? did she know how to reach you when you had your sons? anyway, i hope she's at peace now. i agree with christina it would be good to know the cause in case it's preventable.