Leap Go Disposable e-Cigarette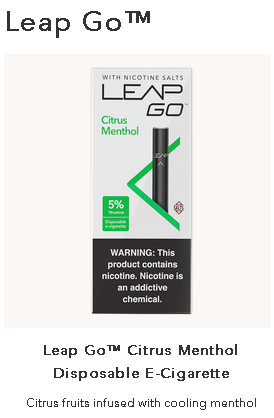 United States
August 17, 2019 2:13pm CST
I quit smoking cigarettes about five or six years ago. I stopped cold turkey but I did have a disposable electronic cigarette as a safety blanket. It cost less than ten dollars and was supposed to be the equivalent of a pack of cigarettes. I used it for about two months as a crutch before the menthol flavor was completely depleted. That was the only one I purchased until a couple days ago. Stressful events and the passing of my father pushed me over the edge and I knew that if i went back to regular cigarettes it would be extremely hard to quit. I picked up the Leap Go disposable. I use it a couple times a day and it helps with the rough patches and stress eating. I don't plan on buying another one or making this a routine habit so I have to classify myself as a very light casual user. The Leap comes in a couple different flavors as well as a standard vape pen. It is small and compact so it is easy to carry but you are going to want to make sure you put the rubber tip coating over the end of it to keep dirt and lint from getting inside the small opening that you use to inhale through. Have you ever used a vape pen or disposable e-cigarette? Do you smoke regular cigarettes? What's your opinions on disposable e-cigarettes and nicotine addiction?
1 response

• Bridgton, Maine
17 Aug
I never had the desire to smoke, even as a teen.

• Bridgton, Maine
18 Aug
@freak369
Smoking is disgusting, is expensive, and can cause health problems. I'm glad I've always seen it that way.