Cornelius And Cierra - The Sims 4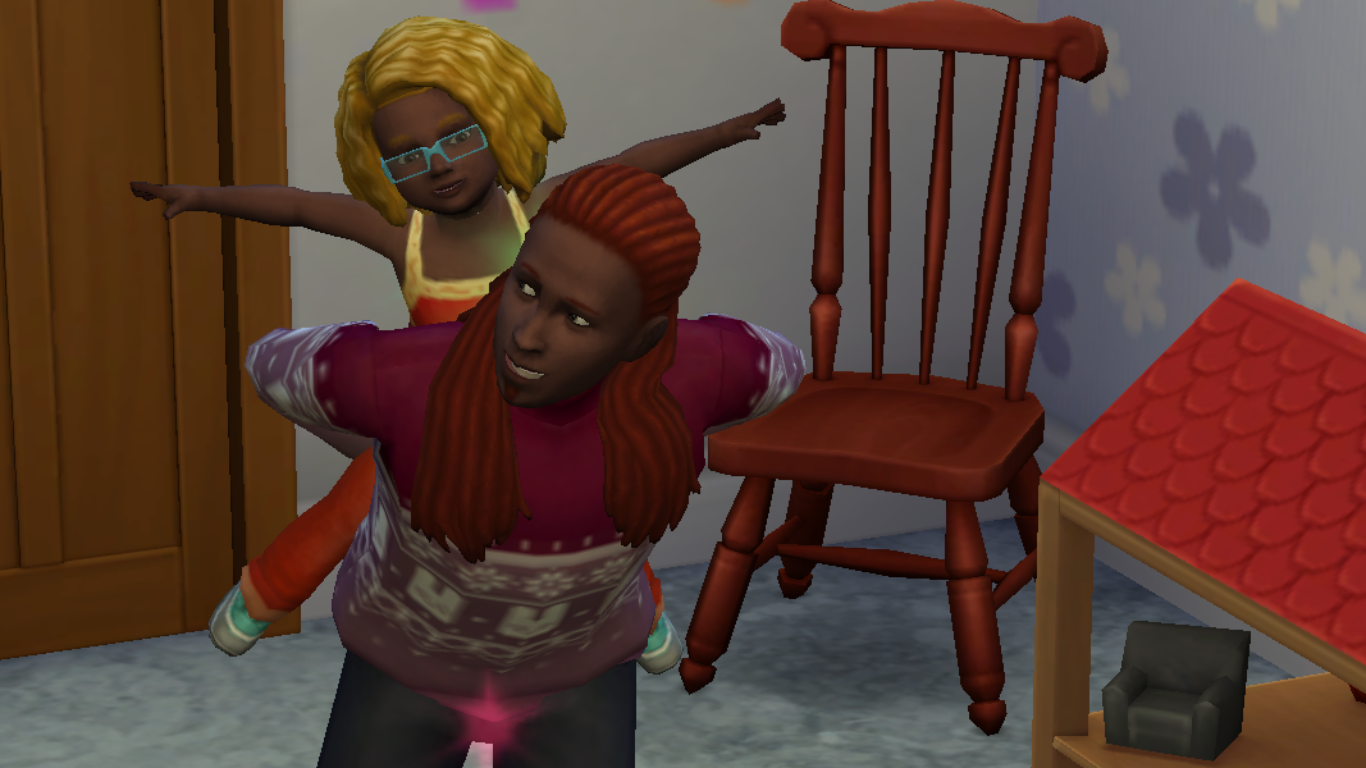 Peoria, Arizona
October 8, 2019 9:51pm CST
So, I haven't talked about my Sims families in a long time! I have so many screenshots and since I don't have much to talk about at the moment, I want to talk about my sims families because I love them so much! Actually, even though I love them so much there is this mod coming out soon that really makes your game super dramatic. Like your sims can get diseases, kidnapped, robbed, such realistic things and it is all in a mod. I feel like the sims 4, it is just too simple. Though I don't want my sims to die, I think it would be interesting to have more going on! In the sims 2, you could die from a freaking satelite falling from the sky, I think you could even die by flies if you had too many dirty dishes in your home. Sims 4, it is way too easy to keep your sims alive and I want drama. So yes, as much as I love my sims, I also have a lot of sims and I want drama! Anyway, before all that drama happens here is my cute little family being happy! We have Cornelius my sweet flower arranging, athletic, hunk muffin. I think out of all my sims, my biggest crush is on Cornelius. He is just... I mean I love Gil, Gil is another sim who is also athetlic and muscular and just...pixels are very well put on, but he is also an actor and lives very flashy. Cornelius loves his flowers and farming, he is so calm and I love him. He is playing with his little girl Cierra. It is his first daughter with his wife Christie. He is just such a good dad. Like anytime Christie was out in the farm, taking care of the plants and such, Corneilus would stop his work out and go play with Cierra. He would do flashcards and play dolls. He would do thinks I wouldn't tell him to and I just loved that. So yeah, I'll update more about my sims because maybe someone cares, maybe my little stories will make you think of your own families and hopefully when the Life Tradegies mod comes out, I won't have that many Tradegies right off the back but I think it will make the Sims 4, even more amazing.
3 responses

• Anniston, Alabama
9 Oct
You go girl! Have fun while you are young and free.

• Peoria, Arizona
10 Oct
I will hopefully be playing the sims or games alike even when I am old and grey haha It is one of my favorite ways to relax


• Peoria, Arizona
10 Oct
The characters are here are characters that I "made" so they do not come with the game.

•
10 Oct

• Peoria, Arizona
11 Oct
@Janet357
Thank you haha Glad to have met you as well

• Daytona Beach, Florida
9 Oct
Sounds like you are really enjoying yourself and are having fun with your Sims families I have never played games like this just too much time goes into my writing

• Peoria, Arizona
10 Oct
I spend most of my time either working or drawing, sometimes I just need a break but I still feel the need to create a story and the Sims is perfect for that.