DIY wall ideas

4 responses

• United States
10 Oct
Paint sticks? I know that there are Sharpie markers that you can use to cover up scratches on wood, but I've never thought about using them on a wall.

•
10 Oct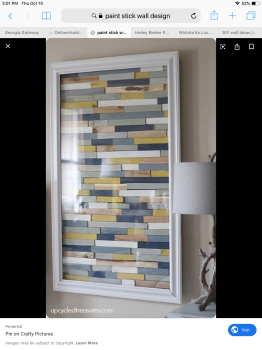 This is a design in a frame but I am looking to do this on a slightly bigger area.withiut the frame and colors the coordinate with my kitchen area

• United States
10 Oct
@YouWantMeToDoWhat
have you thought about buying moulding at the hardware store? I know that they have strips of wood that are used for other purposes that I know I've seen. I wish I knew what they were called.

•
10 Oct
@TheSojourner
no I have not even thought about this at all. That's for this suggestion



•
10 Oct
For the area I am conspiring, it would take about 150 paint sticks. I have about 50 but I am able to get free ones at about 10 at a time from each paint store. I have the stains so that's not a problem. All in all this will cost less than $50

• United States
11 Oct
@YouWantMeToDoWhat
It sounds like a fun project that you can be proud of when it's finished. It's always fun (in my opinion) to do something different, especially if you can do it with a minimum of expense.

• United Kingdom
10 Oct
You could paint the wall in different colors and then varnish it over to make it log lasting. I have bought three wooden hexagons. I plan to paint them in seaside colors and display small nautical ornaments. Good luck with painting your bar area.

• New Baltimore, Michigan
10 Oct
YES. Paint sticks. They'll work.