Are we losing the meaning of christmas

Trinidad And Tobago
November 29, 2006 7:27am CST
People use this time to get drunk and do all sorts of things not pertain to th e meaning, what do you thing about that
3 responses

• United States
19 Dec 06
I think we are losing the meaning of Christmas. It has been said that this time of year is among the biggest for partying. To much emphasis is placed on buying things instead of actually being with friends and family and celebrating Jesus' birth. Some people have said "take Christ out of Christmas" we need to put him back in it. He's the reason we celebrate it.

• Trinidad And Tobago
19 Dec 06

• India
10 Dec 06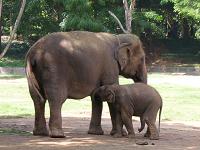 What is to be seen here is not mental abberations of a few. Milllions and millions of people, old and young celebrate christmas with all colour and geity with so much and happy and joy, with all their members of family and relatives and friends. This has become world event. In these celebrations, there could be some excesses, exhibitionism of ugly scenes. That has to be ignored.