pakistans heart karachi very beautiful place?

Pakistan
4 responses

• Canada
19 Dec 06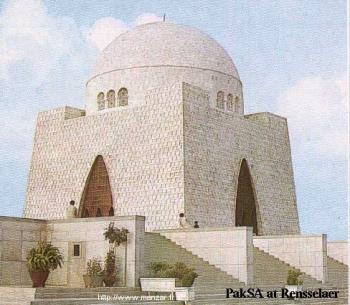 Karachi is like Dubai! I love this city very much! From all over the Pakistan people come here to earn money! This city supports the whole country and without the city of lights Pakistan will be a barren place!

• Pakistan
20 Dec 06
Karachi, city in southern Pakistan, capital of Sind Province, on the Arabian Sea, at the northwestern edge of the Indus River delta. The hub of a sprawling metropolitan area, Karachi is the nation's largest city and its chief transportation, financial, commercial, and manufacturing center. Most of the international trade of Pakistan and landlocked Afghanistan pass through the city's busy modern port, centered on the island of Kiamari. Major highways and railroads focus on the city, and the modern airport here is a stopover and refueling point for intercontinental flights. Among the many products of Karachi are steel, textiles, chemicals, refined petroleum, footwear, machinery, handicrafts, and processed food. The city also is an important banking center and has a stock exchange. The University of Karachi (1951) and NED University of Engineering and Technology (1922) are here. The tomb of Muhammed Ali Jinnah, founder of Pakistan, is a landmark. An old settlement, Karachi was a small fishing and trade center when captured by the British in 1839 and annexed three years later. Under British rule, it became the chief outlet for Indus Valley cotton and grain exports. Karachi was the capital of newly independent Pakistan from 1947 until 1959, when it was replaced by the provisional capital of Rawalpindi (Islamabad became Pakistan's permanent capital in 1967.) During the early years of independence Karachi grew rapidly as the chief port and industrial center of West Pakistan, and many Muslim refugees from India settled here. Since the 1980s the city has been the site of violent eruptions between the rival political, religious, and ethnic groups. Population (1998) 9,269,265.

• Pakistan
3 Dec 06
Karachi! ya I've been there for almost two years or more. Karachi might be a beautiful place , but due to poeple of karachi i hate this city most. I never hated anything else other then karachi and almost 2 years are passed i didn't came to karachi. I wish never to be in that city again rest of all my life. Sorry if i hurt anybody,but what i saw,felt and BEARED this is the least what i am saying.

• Pakistan
3 Dec 06
What is the main reason behind ur hatness what happened 2 u in karachi. All five fingures are not equal there are 2 peoples every where in this whole world,One is good and the others are bad, U saw bad people but there r lot of people in karachi which have open hearted kind human beings. they are always so kind and happy to see other happy .tell me whats in u r mind.what thing happens 2 u in karachi?

• United Arab Emirates
6 Dec 06
Well maybe you had some bad experiences. But you cant decide based on your few bad experiences. Maybe you would like to share what exactly makes you feel that way about Karachi? m sure you do have a good LOGICAL reason to feel this way so couple of examples would be good?

• Pakistan
7 Dec 06
Yes i m affraid ur right about these stories of husband,father,marium and many other.Do u know why this happens because ur talking about thoses people who are belonging from village or some cities where most of the people are illitreate and some of them are physco,mentally ill.thats why these things happeneds.There is no cure of physco and mentals,doubt,(shuk or wahem)ka koi illag nahin hai. I saw karachi people dying for each other.They have big hearts ill tell u do u know last time the earthquake came to pakistan in Balakot and abbotababd manay of the people help the tasunamia earth quake vicitms mostly karachi gave all of the support by money,manpower.the first people came to help from pakistan in balakot and abbotabad is karachi peoples they work really hard for them little kids gave them their monthly pocket money people are helping from home arround they gave their every thing to the earth quake victims.Many of karachi people make donations the governemnt officers and the private firms gave there monthly income about 25% to them.They are karachi people who gave their dayz and night to them.they made camps collect foods cloths,tents.When the eart quake came i went to balakot and abbot a bad i spent 6 weeks there and i saw karachi peoples work very hard there.In every 3 hours two truks of filled with foods tents cloths and the important stuffs of living came from karachi every 3 hours.I also didnt sleeps for 5 to 6 dayz in there.they wor ver hard.and also balakot and abbot abad people said that the karachi people helped them alot.Pervaiz musharaf aslo said that the karachi peoplr are kind harted and hardworker they have golden hearts. In karachi Something goes bad happends to their neighbours or any other persons they helped them not to stay back.They are really hard workers.great lovers. U r talking about those persons who are illitreate and they have physco problems.they are mentally ill people. There are many cases which i think in the world that u didnt know worst cases where if u hearer aresaw u should definetely says that i know (i hate world).I mean to say that there are two kinds of people in the world good annd bad u say bad peoples n karachi.I m very thankfull to u telling me all of u experiences wish to hear u sooon. I wish u understand what i m saying.


• United Arab Emirates
3 Dec 06