Facebook or MySpace?

United States
November 29, 2006 4:30pm CST
Do you prefer to use Facebook or MySpace to socialize online? Or both? So what's good about each?
3 responses


• United States
29 Nov 06
what is facebook? i've only heard of friendster & myspace.

• United States
1 Dec 06
facebook seems to be for the "intellectual" crowd. MySpace seems to be a place to find dates, and for people who can't find friends outside of the cyber world. With facebook you have to be a student/or alumni at a college/university.

• United States
29 Nov 06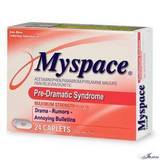 I have a facebook and a myspace. I hate myspace. It is really lame. I think facebook is so much better! Facebook is so much better. When they added the mini feed that was a little scary and I did not go on for a couple of days but once they fixed that i think they made the site better than ever!