Book Review: The Next Always by Nora Roberts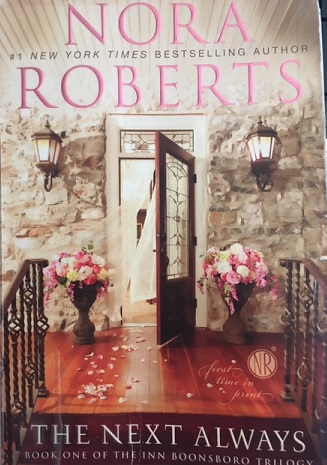 Orangeville, Ontario
May 26, 2020 1:25am CST
I remember Nora Roberts as J.D. Robb writing for Harlequin. That kind of sappy romance doesn't usually appeal to me but her writing has evolved tremendously. This book is 2011 and was passed on by a friend. Now I'm in search of the two follow-up novels (aren't I always?) ~~~~ [/i]The historic hotel in Boonsboro has endured war and peace, the changing of hands, and even rumored hauntings. Now it's getting a major face-lift from the Montgomery brothers and their eccentric mother. As the architect in the family, Beckett's social life consists mostly of talking shop over pizza and beer. But there's another project he's not his eye on: the girl he's been waiting to kiss since he was sixteen.[i] [/i]After losing her husband and returning to her hometown, Clare Brewster soon settles into her life as the mother of three young sons while running the town's bookstore. Though busy and with little time for romance, Clare is drawn across the street by Beckett's transformation of the old inn, wanting to take a closer look... at both his building and the man behind it.[i] [/i]With the grand opening inching closer, Beckett is happy to give Clare a private tour - one room at a time, in between blueprint meetings and kindergarten pickups. It's no first date, but these stolen moments are the beginning of something that could arouse the secret yearning that resides in Clare's independent heart - and open the door to the extraordinary adventure of what comes next.[i] ~~~~ Yes, it's a romance, but it's a good one. There's not much push and pull but some major interference from an unwanted admirer. This is where the intensity lies. And then there's the ghost. I love a good ghost story and this one is entertaining, if not a little creepy. This is a wonderful book that I couldn't stop thinking about all day. I couldn't wait to get back to reading it at night. I just felt so connected to the characters and the story. Romance, tension, ghost mystery, humour... I gave this book 5 stars. You oughta check it out.
3 responses

• Israel
26 May
@patgalca
I am a big Nora Roberts fan. I have not yet read J.D. Robb yet. I hope where I go they will have the books.I do not recall if I ever read this book by her. I love reading her books.

• Orangeville, Ontario
26 May
Nora Roberts has written so many books I don't think I would ever be able to read them all, especially since I am discovering so many new authors right now that I just want to delve into. She really has written a ton of books. Used book stores is the best place to go to find her books.

• Israel
27 May
@patgalca
I used to go to a place and got free books from a friend and discovered all these authors I have never heard of and liked them. I do not go to that place anymore and before the virus went to a bookstore I like that you can bring their books back and get credit off of new ones. You do not get money back, just credit.

• Orangeville, Ontario
27 May
@Hannihar
I know. All our used bookstores here only give credit. I should have taken some of my books in today to get credit. Maybe another time. I don't need to be buying more books or bringing more books into the house. I have so many here to read and am expecting a couple of wins in the mail.


• St. Catharines, Ontario
26 May
I tried reading a "J.D. Robb" SF book, but it was so awful that I couldn't finish it.

• Orangeville, Ontario
26 May
Since she started as J.D. Robb with Harlequin and then transitioned over to Nora Roberts, I can only assume that Nora Roberts books are better than J.D. Robb. Just an assumption though. I know people who love both, but they are really into heavy romance novels.

• St. Catharines, Ontario
26 May
@patgalca
She had set it only 50 years in the future from the time she wrote it, and it wasn't yet caught up to real time, but nowhere near any plausible technology or even fashion change... everybody wore flowing robes, men and women alike.

• Orangeville, Ontario
27 May