Locust Attacks India

India
May 29, 2020 2:31am CST
Multimillion locusts have attacked India, destroying fields and affecting people, 9 States have gone into High Alert. Many are getting into affect. Already India is hit by COVID 19 badly due to Corona Jihad by Tabligi Terrorists who also enjoy political support, and now this another problem has hit the country. Actually disabled and orphan are going to hit more due to ignorance by the government. However this is dangerous situation, so government has formed committees to counter locusts problem.
8 responses

• Philippines
29 May
When locusts attack our country, the solution they did is to get them all by adding them to the menu. They will eat every crop anyway so just do the same with them.

• Philippines
29 May
@Janet357
Yes it did. The locus didn't have time to multiply themselves.


• India
29 May
Hmm i also read news about it..getting very afraid how we handle those..


• Guangzhou, China
29 May
That is a bad news! In fact I heard the locust news from Africa some time ago and at that time people were afraid that these locusts will go to other countries. It is so bad that these locusts are still available and they are not destroyed yet. It makes everything harder in the coming days.

•
29 May
Oh dear . This is really bad for India. This means next year will be even worse as many people will have nothing to harvest or nothing stocked

• India
29 May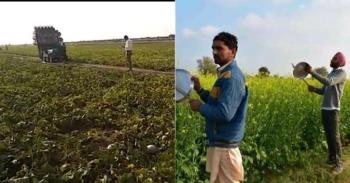 Yes I watched this news. Farmers have deviced ways to get rid of the locust by banging plates or playing DJ music loudly.