I absolutely adore my cats!

United States
November 29, 2006 8:09pm CST
I love cats so much! I have three cats that I consider my children. Two of the cats are totally adorable together. They groom each other, sleep together all snuggled up, and run around the house and play. The third one is an older cat and does not like to mingle with the other two. I have had him for 8 years and am very attached to him though he can be kind of grouchy sometimes. But, maybe as we get older, we all get just a little bit grouchier too!
8 responses

• United States
30 Nov 06
Im not much of having pets I like cats though just not for me to own

• United States
30 Nov 06
I have four cats that range in age from five years old to nine months. I love each of them a lot. They are the children that I'll never have so I spoil them. ;)

• United States
30 Nov 06
We have two cats, Benta and Itty. Benta is about 4 years old and Itty is 4 months old. Benta is not happy with having Itty run around trying to box at her and wanting to play. Sometimes they surprise me and sit quietly together in the window sill. Those times are rare little pleasures.

• United States
30 Nov 06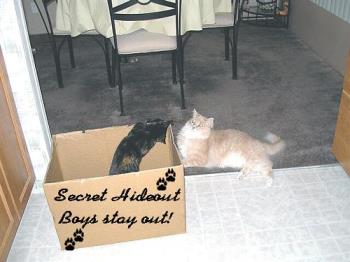 We have two also. A nine year old 16 pound large male,not fat. And a 1 year old female. Rescued both. We love them so much. They are our children. And their personalities are soooooooooooooooo different.


• China
30 Nov 06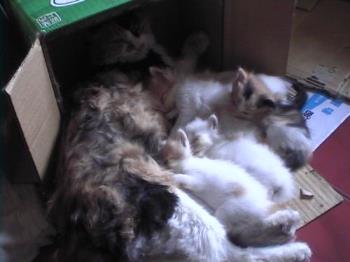 Welcome to Mylot.Well I'm a big cat lover.I have 4 cats now.First I got two cats one is male and the other is female.You know when you put male cat and female cat together everyone know what will happen.Then I got 7 cats,cat parents and 5 baby kittens.The kittens were so cute!!I considered them as my babies,I fed them milk,I hold them while they were sleeping.I still remember the first time they opened their eyes.But unfortunately,my Mom didn't allow me to feed all of them,so we gave three of the kittens to others.Because that thing I was sad for a long time~~ This is a pic of my babies.So cute,warm and peaceful,right?

• United States
30 Nov 06
Do you want some more? I have 13. Just kidding. I wouldn't give them up. I wish they would learn to use the toliet though.lol. I have to take care of 6 liter boxes. Most are strays that people dropped off and I can't say no. But only I can tell them apart as some look a lot alike. And they all have their own different personalities. I have some that are very sociable and others that prefer to be by themselves. But for the most part, they all get along. I have 4 dogs too, and they groom the cats sometimes.



• Australia
30 Nov 06

Hi there, welcome - hope you're having fun! I have 3 cats too. My oldest cat is 17 and totally grumpy! LOL