Most Popular Twitter War Between India Vs China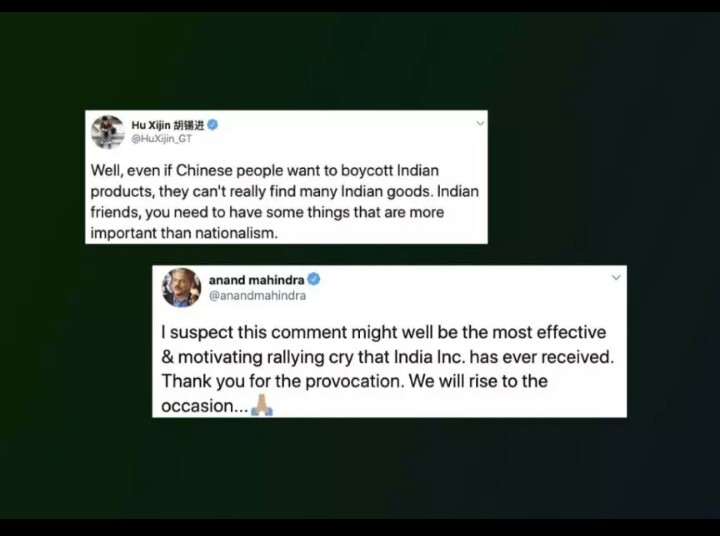 India
July 1, 2020 5:25am CST
Hi friends, I think all of us known about latest news about banning 59 chines apps in India. On seeing this news I am very happy with it,I think all Indians accept it. Due to this now Chines Government starting their twitter attach now. They saying that for broken Indian related apps or items they don't have any but Indians most use apps or products are mines. For this twitter our India Anand Mahindra also give strong worning. Just read those tweets my friends, I am very unhappy on seeing it. Because I think not only India ,all other countries also using lot of Chines products. Due to they become richest in the world, that's why now they talking like this.
8 responses

• India
1 Jul
China doing one big mistake is that they thought we week but our PM is very strong and this time i want we attack first.

• Chennai, India
1 Jul
Now digital war begins from India VS China. Hope due to this in India we get lot of manufacturing units soon.


• India
2 Jul
Now all most all people shares their views in social media only.

• United States
2 Jul

• India
2 Jul
Actually I am surprise to learn from social media some of the Chinese companies even donated to Prime Minister care fund and they have invested in some of the companies.. I am not sure how long this battle will takes place.. Time to focus on Made in India not Make in India

• India
2 Jul
Well said my friend. Now we need made in India.


• Cainta, Philippines
1 Jul
It is okay if the war rages in Twitter. But I hope it does not come to a firefight.

• Philippines
1 Jul
I hope things wont get worse

• Germany
1 Jul
It`s so sad that countries have to fight like this


• India
2 Jul
I don't feel any sad because it boost our Indian thoughts in manufacturing world soon.

• Germany
2 Jul
@Lakshman15
I don`t like fighting. I`m scared thinking about it


• India
2 Jul
@m_audrey6788
You having good behavior but all are not think like you. That's why we facing this issues lol.