Is 5-minute Crafts really made in 5-minutes?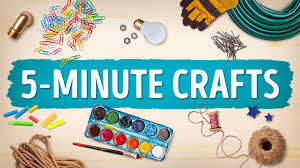 August 28, 2020 8:57am CST
If you happen to check on your YouTube suggested videos, or your Facebook feed, some of your friends might have had share this channel's contents. They are popular in the DIY or easy recipe video guides on these social Medias. 5-Minute Crafts is a DIY-Styled YouTube channel owned by TheSoul Publishing a company based in Limassol, Cyprus. It's the fifth most subscribed channel on YouTube known for their "How-to" and claimed "5-minute do it yourself videos". Though the intent of the content is to give an educational DIY feel, it draws a lot of criticism for posting clickbait and nonsensical life hacks, much worst is the cooking part of the channel where it can be really be dangerous. Some of the infamous videos that blow up criticisms include food hacks such as flan from a milk carton (which you need to microwave), turning red strawberries into white (using bleached). This is really dangerous most especially for those who are not aware with cooking. Often than not, their videos suggests that it's made 5-minutes but in technicality, a video production is produced a whole entire day especially those fake cooking hacks. What are your thoughts? Have you watched or even tried doing a 5-minute craft videos?
3 responses



•
28 Aug 20
@StyleWithSense
Just checked out the site and it looks very interesting.


•
28 Aug 20
@kanuck1
That's cool! thanks for your response! Hope all is well.




•
28 Aug 20

•
28 Aug 20
@rhuenz
I agree cos you never know if that is the whole thing or it's just somewhat staged just to get views. Thanks for your response.

• United States
28 Aug 20
I have watched many of them but I would never do anything they show us, but I will say they do have some neat things.

•
28 Aug 20
Yeah they do have some pretty decent projects but all of it are obviously staged. It's just for the entertainment part but as for a tutorial part that wouldn't be likely reliable. Thanks for your response!