dog situation...

United States
September 12, 2006 9:20pm CST
im currently in a bad situation involving dogs... i really really dont like dogs... but my future wife LOVES them... so im probably going to give in and get one lol what would you do? get the dog and keep the mrs happy, or keep yourself from having recurring headaches?
4 responses

• United States
25 Sep 06
I would hold off on getting the dog until you had a nice house with a big yard. I am sure you two can come up with some kind of compromise and find a dog that will not give you headaches but will make her happy.

• United States
25 Sep 06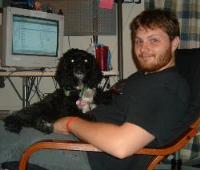 My husband did not want our dog at first. He had grown up in a family where they had three dogs and about 12 cats and he did not want any animals at all. However it was before we where married and it was my apartments so I got my dog. It took only a few minutes before he fell in love with our dog which we named Leroy Brown. As long as you get a dog who is friendly and help out on occasion then it would make your wife very happy I say do it.

• United States
25 Sep 06
Since you said recurring headaches, I'm assuming that you are allergic to dogs. If this is indeed the case, there are breeds out there that are recommended for allergy sufferers. Some of those breeds are Bichon Frises, Yorkies, Mini Shnauzers, Poodles, and West Highland White Terriors. I think it is very kind of you to consider getting a dog, even though you don't like them and they give you headaches, but I think your happiness is important too. Hopefully you and your future wife will be able to come to an agreement that will make both of you happy. Good luck!!

• United States
23 Sep 06
If you LOVE her, I am sure you can LOVE a dog, just find one you like. There is one out there for you, I am not a dog fan either, but I know they can be nice to have