Ode to the autumn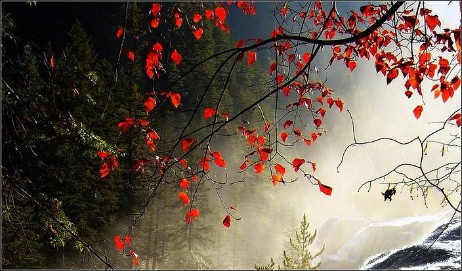 Hangzhou, China
September 5, 2020 8:24am CST
The yellow leaves cuddle me in the autumn, the sorrow of missing you is becoming the evening dew on the red rose, you have said you will watch this moonrise A half west wind marked your name in the autumn, i wander around the pond we were hand-in-hand. You said i'm the girl making you feel the heaven, i have believed that you'll decorate me with garland On the empty courtyard my pray in the autumn, always i wish you'll find a nice girl to live. You said i'm the girl taking you to the heaven, i fell tears for once,but i'm happily in love The red roses cuddle me in the autumn, the dream of missing you is becoming the light rain on the wooden eaves, you have said you will write my best autumn
6 responses


• Hangzhou, China
11 Sep 20
Thank you,i just write it in a silent and sentimental mood

• Agra, India
5 Sep 20
Perfect natural blend of words to explain natural beauty

• Hangzhou, China
5 Sep 20
i love the natural things,it always brings me the calmness and comfort,thanks for your commenting

• Agra, India
6 Sep 20
@choijungeun
yes...same here. But I get to see so less of them

• Wheat Ridge, Colorado
5 Sep 20
Oh now this is my kind of autumn. So close to me thank you for sharing it. Beautiful.

• Hangzhou, China
5 Sep 20
it's my pleasure,and autumn is a cool season,i really love it
• Midland, Michigan
3 Dec 20
Very nicely done. I hope you didn't lose the live of your life?

• Hangzhou, China
5 Dec 20
Thanks for your commenting,i won't,i will stay to see the dawn of my life comes and i believe God will bless me

• Green Bay, Wisconsin
8 Nov 20
Thank you for sharing this lovely poem.

• Pasig, Philippines
5 Sep 20

• Hangzhou, China
5 Sep 20
Thanks for your reading,i'm glad you like it,i wish you have a beautiful day