The watch of Cambronne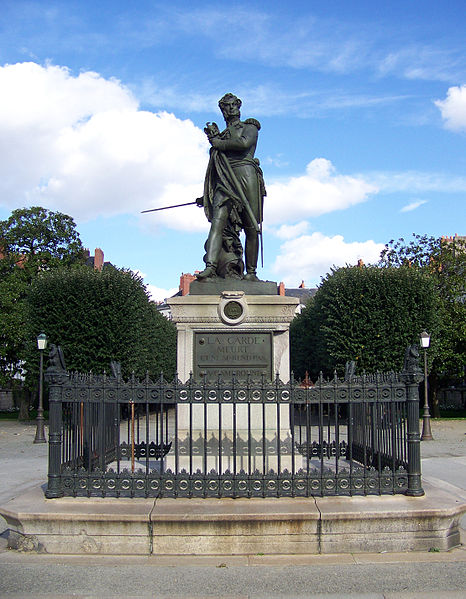 France
September 5, 2020 11:47am CST
The picture shows the statue of general Pierre Cambronne in Nantes inaugurated in presence of his widow in 1848 (he died in 1842). Cambronne was commanding the imperial guard at the battle of Waterloo. At the base of the statue is a quote : "The Guard dies but never surrenders." A journalist attributed these words to him in June 1815, a week after the battle. He was supposed to have said them to general Colville asking him to surrender. But the quote is apocryphal, Cambronne himself said in 1830 "The proof that I never told that is that I am still alive. I said some words less literary and more virile." He had been seriously hurt at the head during the battle and married the nurse who took care of him, a Scottish woman called Mary Osburn. She was 50 years old, a bit older than him, and had already buried two husbands, Cambronne will be the third one. She had an adopted girl that Cambronne also adopted. Although as an army nurse she was familiar with the language of soldiers, she was outraged when somebody told her what Cambronne had really responded to Colville at Waterloo. She started to quarrel with her husband and asked him to swear that he never told that. One can be a brave soldier on a battlefield but prefer to live in peace at home, and Cambronne swore to his Scottish dragon what she wanted to hear. Very pleased by the answer she offered him a gold watch for his little lie. The watch was exhibited in Nantes for the inauguration of the statue together with engravings and paintings of Cambronne, like the proof that Cambronne never said what every French knows like "the word of Cambronne." However this word could not be printed on the pedestal, while "the Guard dies but never surrenders" was perfect for a statue. But at the battle of Waterloo Count Cambronne responded to Sir Colville asking him to surrender : "Merde !" "Sh*t !", meaning "F*ck you !"
5 responses

• Zagreb, Croatia (Hrvatska)
8 Sep
well, in love and war, everyone lies, it seems


• Pamplona, Spain
15 Sep
She put a double edged sword to him and asked him to choose between the devil and the deep blue sea. Was thinking of Horatio Nelson the day before yesterday no idea why. Is all really fair in love and in war wonder what his Scottish Dragon thought of all that?


• Pamplona, Spain
15 Sep
@topffer
As a token of love? I cannot say no to that as we have both agreed that the Spanish Armada was what it was and we have never argued about it either or took sides on our own. So that is what I call being fair in love. Him being the one in the photo of the avatar of course.



• France
15 Sep
@lovinangelsinstead21
I had guessed that it was your husband on the photo

. The difference with the Spanish Armada is that your husband was not in a boat of the Armada while Cambronne was at Waterloo, and Napoleon put him on his will for a big amount of money. It was very fresh in the minds, and I think Cambronne has been wise to not fuel a quarrel for 1 word said in anger on a battlefield.


• United States
8 Sep



The literary quote sure sounds good and almost scripted like a good movie line

. But I suppose it sounds more romantic and respectable than swearing . . . although the swearing is more realistic considering the circumstances

. But if he enjoyed receiving a lovely gold watch for it, then I suppose all was well in his world . . . he left this world with an inside joke

.


• United States
13 Sep
@topffer
It makes you wonder how many other such lies there are out there with any of these statues, quotes, and historical stuff (I'm sure so much has been changed to make things sound better

).

• United States
5 Sep
Thank you for the back story on this statue. Good to see you here.

• United States
5 Sep
@topffer
I posted about it yesterday. We had take-out pizza yesterday; and then we went out to Longhorn Steakhouse for dinner on Thursday. He still wants Chinese, Red Lobster (has steak and seafood) and somewhere Italian. We stretch out birthday celebrations for a month! lol You have a good weekend too!

• Karachi, Pakistan
5 Sep